You're saddling your horse wrong...
We are no longer building saddle trees. We have two saddle fit videos available on our westernsaddlefit.com website. Western Saddle Fit - The Basics, aimed at riders, is available either on DVD or streaming on Vimeo while the six hour series Well Beyond the Basics, aimed more for professionals but understandable by anyone, is available by streaming on Vimeo. (We left this website up because we have had many requests to keep the information available.)
The first thing the rider does that affects saddle fit is to put the saddle on their horse. Where they position it is so very important.
How do you tell someone who has been riding for many years that they have their saddle in the wrong place? How do you explain that putting it up on the shoulder blades damages their horse?
We've posted pictures of the high pressure (red area) that results from having the saddle too far forward...
and shown how the same saddle doesn't cause high pressure points when it is in the correct place.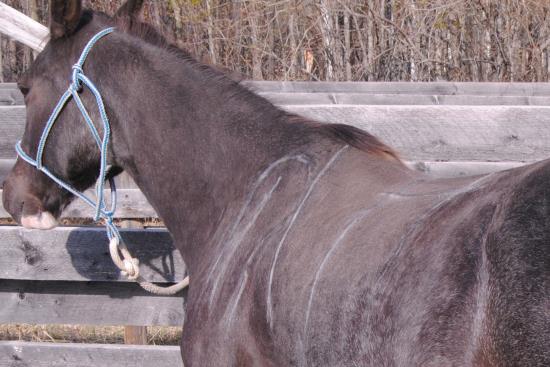 We've shown how to find the back of the shoulder blade…
and the front of the bar…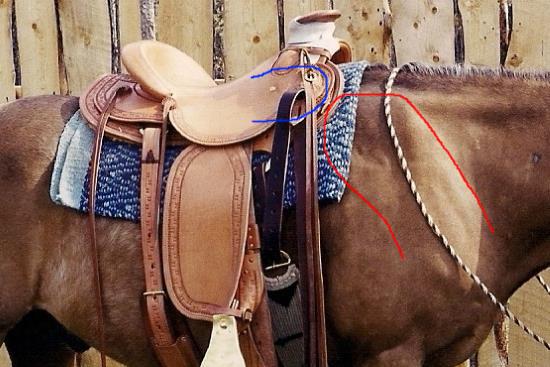 and explained that you need to have the second behind the first…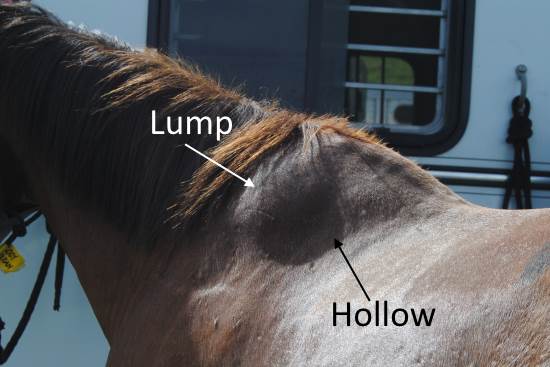 or you do this to your horse in the long run.
We've shown what normal withers look like, with a smooth transition over the shoulder blade to the back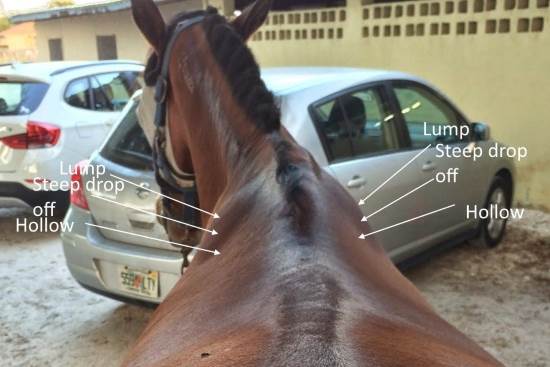 and what withers damaged by saddles, particularly improper saddle placement, look like.
And it isn't just recreational riders and newcomers who saddle wrong. It is trainers, top level rodeo cowboys, top level riders in all difference disciplines in the show ring, clinicians (even internationally recognized ones). It is people who write books and host clinics. And, surprisingly enough, it is a lot of working cowboys.
A great many of these people train horses far better than we ever could and can ride rings around us. Why should they listen to what some people who live in the boonie toons of Northern Alberta say? So, are we going to go and tell them that they are saddling their horse wrong? No.
But they are.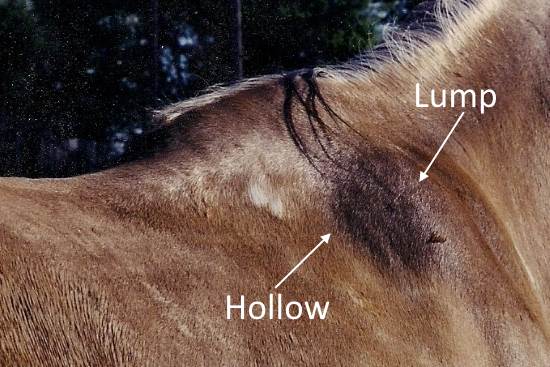 And they're hurting their horses…
(Note:  For those who haven't followed the links above and are still wondering about the proper position of a western saddle, here's the link again.
And a video with the explanation why -https://vimeo.com/westernsaddlefit/properpositionofawesternsaddle)
Comments: