What happened to November?
We are no longer building saddle trees. We have two saddle fit videos available on our westernsaddlefit.com website. Western Saddle Fit - The Basics, aimed at riders, is available either on DVD or streaming on Vimeo while the six hour series Well Beyond the Basics, aimed more for professionals but understandable by anyone, is available by streaming on Vimeo. (We left this website up because we have had many requests to keep the information available.)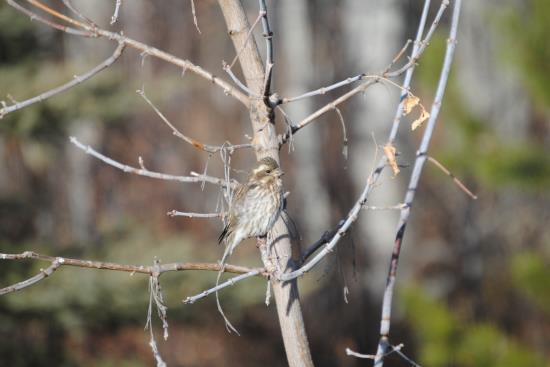 The month kind of disappeared, and I'm not sure quite where it went, but here are a few pictures of some things that happened during November, so it must have been here… In the background of the picture, taken from our dining room winder, of this migrating bird, there is snow, which can be unusual for November this far north. Unfortunately, the winter that was late in coming is currently making up its lost time in intensity. Good thing we have a warm house…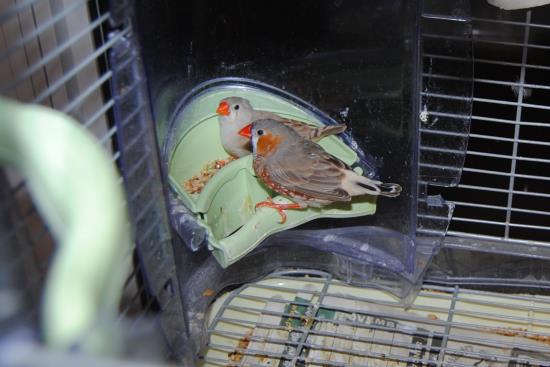 These birds won't go south – at least not without external help. These are young zebra finches our niece is raising. They are very cute, flit about constantly (so they are HARD to take pictures of) and make the cutest little beeping noises. They are for sale, so if anyone somewhere close is interested, just let us know!
Here is a polished white bronze horn that we special ordered for a customer. Looks very pretty…
Our Bella dog is continuing to grow. She's cute, but she's still a puppy. (And yes, she did have funny lumps on her nose, but they have almost disappeared now – just like I said they would…)
Having a niece around can make things very "interesting" in the house. Life isn't quite as ordered around here as it was without her, but it is a lot more fun at times!! I'm not sure who had more fun playing with the wax – Rod or Rae – and we all enjoyed doing up the shoeboxes. It is fun having her here!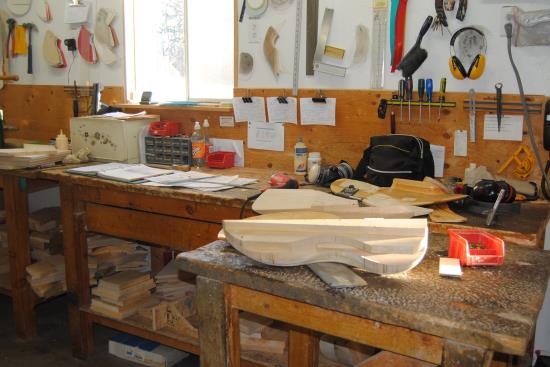 Things also got a tad chaotic in the shop a bit ago. It isn't often that the benches get this cluttered with stuff, but that tends to happen when we are do some R and D and we had a few days of that lately too…
But I figure I better show you that we did actually do some real work this month, and the best way to do that is to show some pictures of trees we have built. We had a lot of swell forks in November compared to what we usually build, so this time I'm choosing to show you the back of the forks.  That way you can compare the shapes of different types.
Here's a 13" wide Packer. 13" is about as wide as most Packers get, and 12" is more common. It slopes off a lot at the top, but still has a fair amount of undercut on the sides.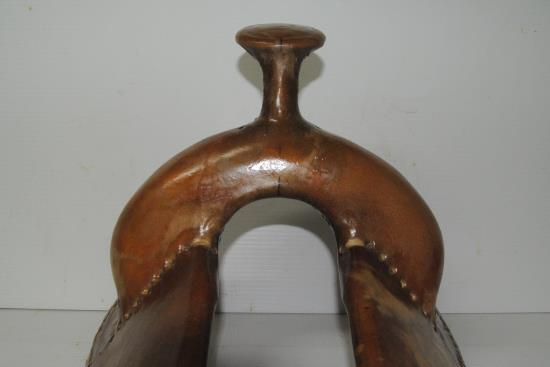 One of the few styles of tree that slopes off more than a Packer is the Chuck Sheppard, and we had an order for one of them too in November. This one is only 11" wide, but they are more often 12" or even 13" wide. Because it slopes off so much, it doesn't have a lot of room for undercut.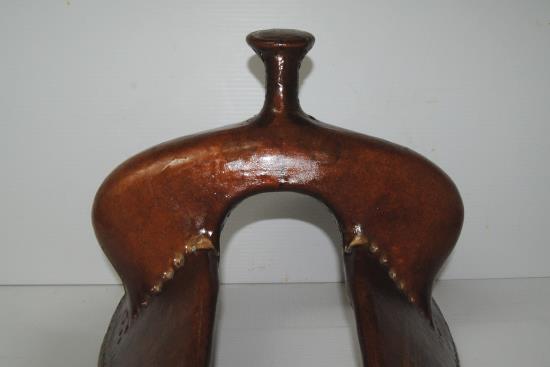 Compare those with this 13" Modified Association fork. It much straighter across the top and has a lot more room for undercut on the sides. This style of fork lends itself well to being wider, and 13' or 14" are the most common widths we have ordered for Modified Association trees.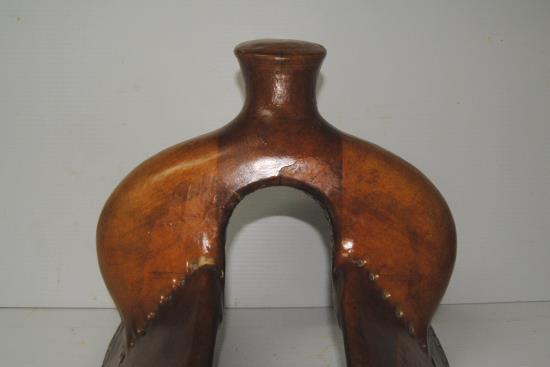 The Bowman fork rounds almost down to the bars and just has a little bit of shaping at the bottom of the fork – no real undercut there to speak of. This tree is built for a very narrow TB type horse. It has an 8 ¼" tall gullet to clear the withers that go up forever, and has a 3 ½" wide hand hole with 87 degree bar angle (remembering, of course, that bar angle numbers are meaningless between makers). So the tree is tall and narrow, but with the wood post horn on it, it doesn't look quite as narrow as it would with a tall metal horn on it.  It is 12" wide, which is the most common width we have ordered for Bowmans, though a fair percentage of these that we build are narrower.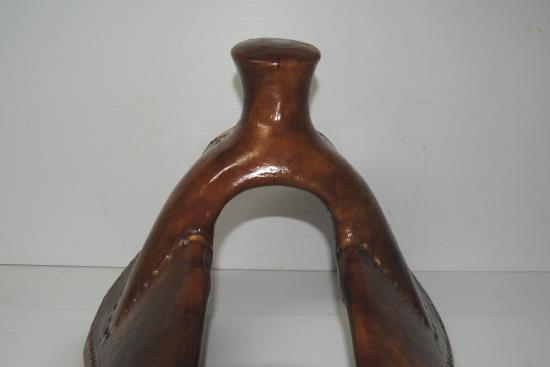 And, of course, there were the ubiquitous Wades. This one is 7 ½" wide, which is slicker than our most common type. The fit of this tree is 4 ¼" x 93 degrees, and that is quite wide for this slick a fork. We like to keep as much footprint on the bar as possible for solid attachment of the fork, but when it gets this slick, we have to decrease that a bit or the sides would start looking concave – and that isn't a good thing…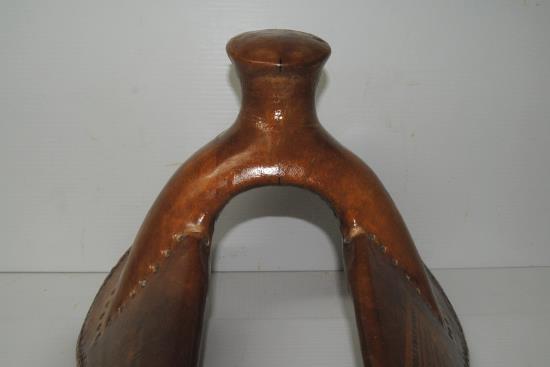 This one is the most common "size" we have ordered at 8" wide. This again is a wider fit – 4 ¼" hand hole with 95 degree bars.
And this is another one I plan to write a whole post about – sometime… Any guesses as to what it is?
Comments:
Posted by
Troy West
on
Dec 7th, 2013
Ubiquitous? Cowboys do not know what that means.
Posted by
RodandDenise
on
Dec 7th, 2013
You could spell it correctly though!! :)
Leave a Reply