The "Trinket"
We are no longer building saddle trees. We have two saddle fit videos available on our westernsaddlefit.com website. Western Saddle Fit - The Basics, aimed at riders, is available either on DVD or streaming on Vimeo while the six hour series Well Beyond the Basics, aimed more for professionals but understandable by anyone, is available by streaming on Vimeo. (We left this website up because we have had many requests to keep the information available.)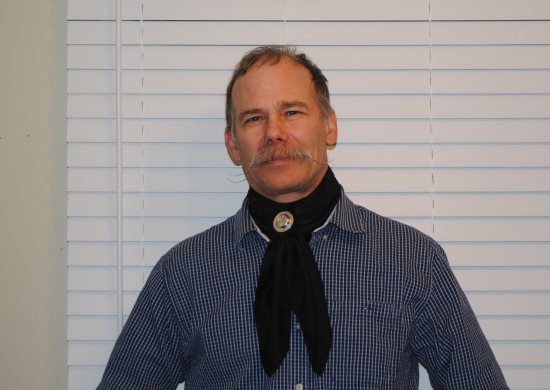 Rod got all fancied up for a Christmas banquet this year. He even waxed his mustache for the first time in years! And it was the first time he was able to wear "the trinket" one of our good customers had sent us.
Peter Mayer ordered his first tree from us in March, 1997, almost twenty years ago, and has been a good friend and customer ever since. He builds very nice saddles…
and is willing to do "different" things that his customers request, such as this cute little Pooh bear.
He is also one of the first to order an exposed wood post horn cap. He sent us this picture of the horn after two years of being used by a working cowboy. (It has served a lot more years now.) It gave us confidence that the wood we often used was strong enough. (But we still never guaranteed these horns not to break. They are pretty but a lot more vulnerable than a normal horn to being damaged.)
Peter is the maker who ordered tree #1000 from us in 2004 and built it into this saddle. You'll notice it also has an exposed wood cap.
He even made a special plate for it marking the grand occasion!
Peter also made sure he got tree #2000. We put an album of building that tree up on our Facebook page. You are supposed to be able see it by clicking here. Please let me know if it doesn't work. (Yeah it had an exposed wood horn cap too...)
And he is the maker who got the last tree Rod built, being as we didn't make it to #3000 – also with a beautiful exposed wood horn cap. Babinga this time.
Peter is one of those guys with way too much talent. Besides his saddles, he is an extraordinary rawhide braider. He and Rod did a trade a few years back and this has been a wall ornament in our house since.
And he also does silverwork, which brings us back to the starting point of this blog post. When Peter mailed us his last cheque, he included what he called "a little trinket". That could be called an understatement...
And look at what he engraved on the back! Well, Peter, we also thank you for all the years of friendship and all the trees you ordered from us over those years. We have met many good friends in this business. Thanks for being one of them!
Comments:
Leave a Reply