This week out of the shop
We are no longer building saddle trees. We have two saddle fit videos available on our westernsaddlefit.com website. Western Saddle Fit - The Basics, aimed at riders, is available either on DVD or streaming on Vimeo while the six hour series Well Beyond the Basics, aimed more for professionals but understandable by anyone, is available by streaming on Vimeo. (We left this website up because we have had many requests to keep the information available.)

We made our annual wood buying trip this week.  For our hardwood, we go to Edmonton (a four hour one way drive) to PJ White Hardwoods to pick out a lot of our wood for the following year.  They get the lifts of the correct type and thickness of wood out from their piles of lumber, cut the bands and then allow us to go through the lifts board by board and choose which ones are suitable for our purposes.  Here, we are checking out the 2" thick yellow poplar we use in our bars.  We are over half way through this lift.  The ones we want are on the left.  The ones we don't want are in the middle, and Rod is checking out the ones we have yet to go through on the right.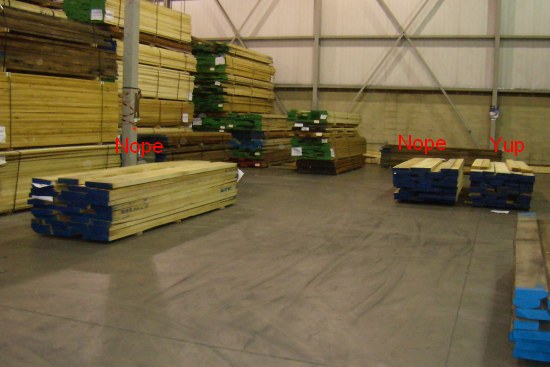 We ended up going through two full lifts to get the wood we need for bars this year.  What we ended up with is on the right.  The other two piles we left in the right size and shape for them to band up again for other customers.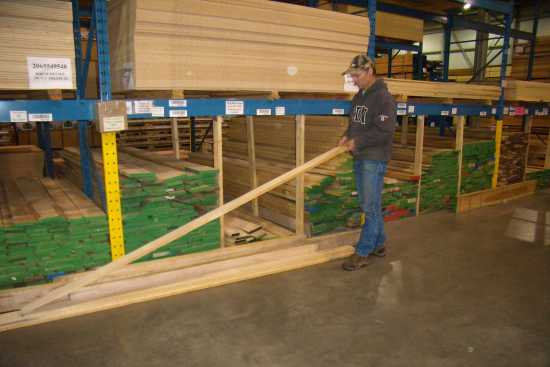 Sometimes we can get wood from the bunks rather than having them get down full lifts.  Things like the oak for sawbuck pack trees where we just need a couple boards a year.  This year, we had enough 4" wide maple left over for the back layer on our wood post forks that we just needed a few boards, so they came from the bunks too.  We can go through as much as we want to get what we need so long as we leave things nice and neat when we are done.

Then they tally up the number of board feet using their fancy calculating sticks.  Here he is tallying up the 1" yellow poplar we will be using for part of our cantles this coming year.  This pile is rather messy, but we stacked it, along with the 1" maple, 2" maple and 2" oak, on top of the 2" yellow poplar before getting it all banded up.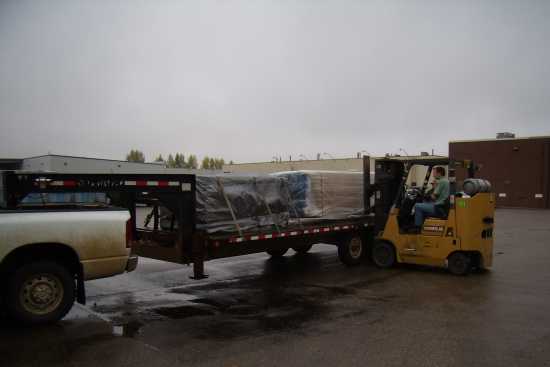 Thanks to some good neighbors loaning us their truck and trailer, the shipping will cost us a lot less this year.  The $800.00 bill for shipping last year was a bit hard to swallow!  They put plastic all over the lift before loading it, and then we put another tarp over top of that before driving home.
The lift on the front of the trailer is Lodgepole pine that we will be trying out this year.  We got it from Edson, Alberta, the day before from a company that cuts and dries their pine before shipping it around the world.  Because we had to take the whole lift, there will be a lot more waste than if we chose the boards at PJ White.  But since the cost is less than ¼ what PJ White would charge us (they were going to charge us more for pine than for yellow poplar and almost as much as the maple!) we can get good firewood out of a lot of it and still be money ahead.
So that is done till next summer!  And now we are heading out for a week of real holidays.  Not going just to visit family.  Not going to a trade show.  Just going away for a week where we can sleep in, hike a little and take a real break. 
Comments:
Posted by
Chuck Reed
on
Apr 5th, 2013
I notice that you use quite a few woods. Just wondering what your thoughts are on cottonwood lumber particularly when used exclusively
Chuck Reed
Rafter C Saddlery
Rawlins, WY
Posted by
RodandDenise
on
Apr 5th, 2013
We have never used cottonwood ourselves, but we have used aspen, which is a very similar wood to cottonwood, in place of pine for a while. We found it more prone to warping than pine and no longer use it.
According to the wood strength tests, aspen is stronger than cottonwood. When we were using it, we wondered about trying it in bars instead of the yellow poplar. Prior to this, Rod had messed up a bar by routering the stirrup groove too deep. So he strength tested it by laying it with the ends across the feet of his vise and whaling on it with his three pound shoeing hammer. It took 10 or more hits to break, and then it split lengthwise rather than across the stirrup groove. When he made a bar from aspen and did the same test, it broke first hit straight across the stirrup groove. Needless to say, we still use yellow poplar in our bars...
Leave a Reply