This week in the shop
We are no longer building saddle trees. We have two saddle fit videos available on our westernsaddlefit.com website. Western Saddle Fit - The Basics, aimed at riders, is available either on DVD or streaming on Vimeo while the six hour series Well Beyond the Basics, aimed more for professionals but understandable by anyone, is available by streaming on Vimeo. (We left this website up because we have had many requests to keep the information available.)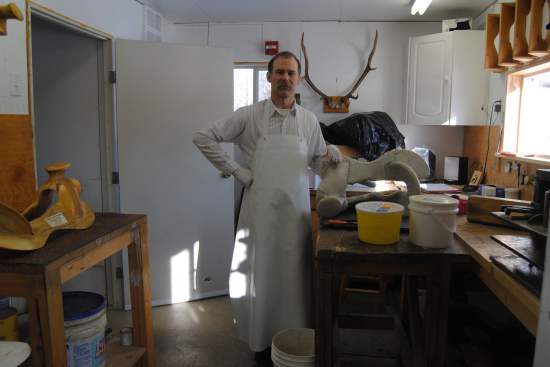 Rod started out Monday morning by cutting up the rawhide he made from five hides last week before rawhiding some trees.  There is something different in this picture compared to all the other pictures you have seen of Rod either making rawhide or rawhiding a tree.  Any guesses what it is?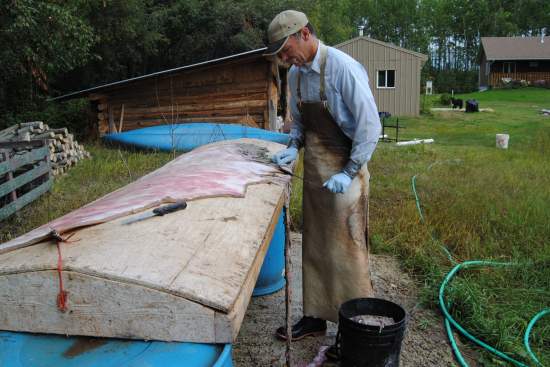 Yup – the apron!  After we've-forgotten-how-many years, it was finally time to spring for a new one.  We bought it where we got the last one – from H and M meats in Grande Prairie where we purchase our hides.  These are made in Germany and are not inexpensive, to say the least.  But they last and they don't leak.  (Well, except for through that knife cut…)  Rod really likes the new one.  It isn't totally stiff and will bend and move as he does!
Then over Monday afternoon, Tuesday and Wednesday morning, he rawhided a set of four trees.  The latest itty-bitty kiddie tree was done Wednesday morning just before this picture was taken.  Next to it is a 12" wide wood post Packer.  Then two Wades.  As you can see, they are taking a while to dry at the moment.  Mid-summer the trees are pretty much dry on the outside within a day or so unless it is really cool and rainy.
Wednesday afternoon, he cut out the wood for the next set of trees.  Here he is making the cantle cut on a bar.  (For more pictures of how we build our trees, please see the Building a Saddle Tree section of our website.)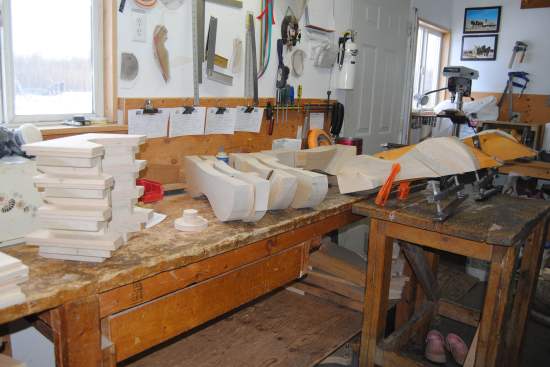 This is how the bench looks on "cut out" day.  Rod usually builds trees in sets of four.  If everything goes tickety-boo and nothing else is happening he can get them done in a six day work week – four days to build the trees from cut out to finished, and two days to rawhide them.  In this picture, the bars are either finished being cut out or in the process of being cut out.  The four horn caps are done and sitting on the bench next to the cantles.  These have had the V cut out of the bottom and are waiting for me to mark the angle cut inside that V for Rod to finish cutting them out too.  And the forks had been cut out and were sitting on the jointer-planer behind me waiting to be planed to the correct thickness.
 
So Thursday morning Rod started working on the trees.  Unfortunately, tickety-boo isn't happening this week.  (Nor were any more pictures taken.)  Due to a lot of interruptions, Rod now has one tree finished and is working on another couple.  He rarely builds two at a time except when they are identical or almost so.  These two are the same, so he is doing them together.  But even with working on them Saturday, these two won't be done till Monday for sure.  Then the last one will be built before he starts rawhiding again.  So if you look at the week's production, you would say "four trees rawhided and one built in that week".  And that is just how things go around here sometimes…
Comments:
Leave a Reply