This past week - inside
We are no longer building saddle trees. We have two saddle fit videos available on our westernsaddlefit.com website. Western Saddle Fit - The Basics, aimed at riders, is available either on DVD or streaming on Vimeo while the six hour series Well Beyond the Basics, aimed more for professionals but understandable by anyone, is available by streaming on Vimeo. (We left this website up because we have had many requests to keep the information available.)
So if you are tired of pictures of snow (I am, especially the one outside my window), here's some pictures from the inside of the shop this week.  Here's the standard normal set up when Rod starts cutting out his next set of four trees.  He starts with the table tilted to the highest degree needed and cuts out everything he needs to there, then lowers it to the next angle, cuts things out, and so on, and so on, and so on...  Here he is cutting out the angle on the bottom of the fork that both sets the angle of the bars on the horse and the angle of the fork on the bars.  These three dimensional things are interesting...

On the bench beside him are the four sets of bars (on the left) and the four cantles behind them with the wood for the four horn caps on top.  The dark red wood is the padauk for the exposed wood horn cap.  And on the table are the other three forks already partially cut out.
Then I was done my work and went into the house and didn't take any more pictures because I have seen this a few hundred times and after a while it gets boring to watch...
But here's something I found interesting, so we took pictures of it.  We made one of the largest cantles we have ever made this past week.  It is 5 1/2" tall by 13" wide at 40 degrees.

To compare, here it is next to a 4" tall by 11" wide, 40 degree cantle.
And next to a 3 1/2" tall by 12" wide, 35 degree cantle. 
Now, we have made a dozen (12 on the nose - I counted them!) cantles taller than 5" before, but all of them have been more stood up than 40 degrees (which is normally our most stood up angle) at 42.5 and even 45 degrees.  And standing up a cantle actually makes its face smaller.  Here's why: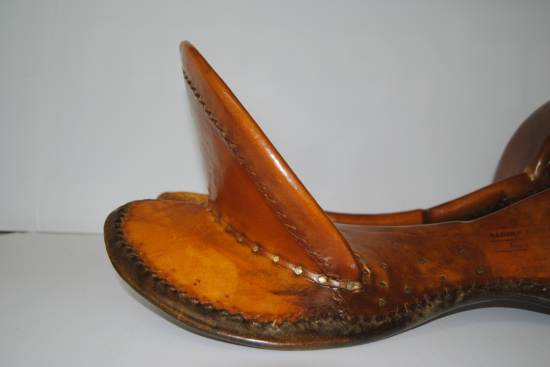 Here's a 5 1/2" tall cantle at a 42.5 degree angle.  Remember that the angles aren't anything you can measure on the tree or even a finished cantle before it is attached to the tree.  They come off the jigs we use to cut them out and they are just a handy label to use to describe the angles relative to each other.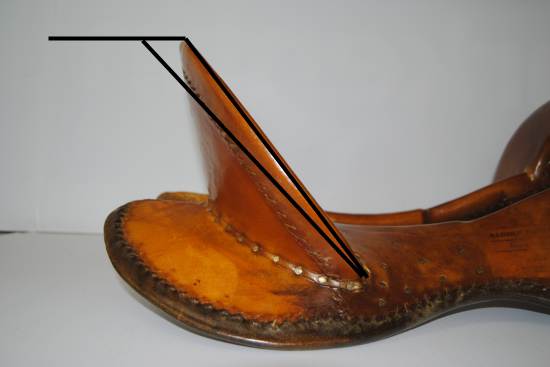 If we lean the cantle back to 40 degrees, then to get to the same height, the distance between the bottom of the cantle and the top of the face of the cantle increases.  This results in more overall surface area on the face of the cantle.
For comparison, here is a 4 1/2" high by 12 1/2" wide by 35 degree (more laid back) cantle on the left compared to a 4 1/2" high by 12 1/2" wide 40 degree (more stood up) cantle on the right.  They are the same width, but the more laid back cantle has more depth top to bottom.
The only picture I can find that was bigger was this one at 6 1/4" tall by 13" wide at 42.5 degrees.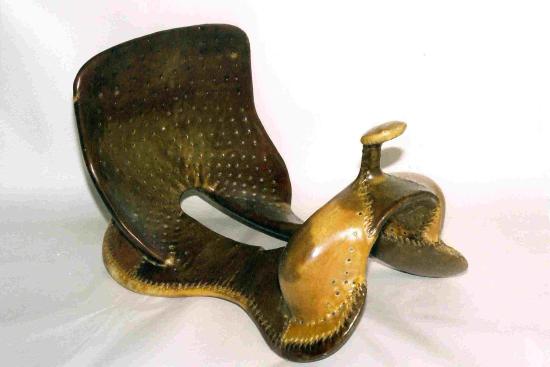 Well, except for this one, but that one was a very special request...
Comments:
Posted by
mathew greenwood
on
Apr 19th, 2012
Denise, i believe thats my tree it looks great, how soon will it be before its rawhided? thanks, Mathew
Posted by
RodandDenise
on
Apr 19th, 2012
Yes, Mathew, that is your tree. Rod got it rawhided Monday, so a couple weeks to dry, a few days for varnish and it will be sent off!
Posted by
Mathew Greenwood
on
May 18th, 2012
I have asked several saddle makers about the trees they use, why, if handmade made trees are better, and/or worth the money and they all argued with me and tried to convince me that "there is no reason to pay over 350 dollars for a tree", I had one guy tell me that "manufactured trees were just as good or better than any handmade tree"... I just laughed and thought apparently you have never seen a handmade tree (this was soon after i had looked a Swanke tree).
I have in my shop the tree I bought from you and a manufactured tree that I payed 250.00 for, and it is very apparent that I got what I payed for, in fact I think I payed to much for the manufactured tree, the rawhide is paper thin, there are half as many nails that are not even hammered down tightly, in several places there is air between the rawhide and the tree, there is atleast a 1/2 inch gap between the rawhide and the tree, were the cantle and the fork join together with the bars and they used wood colored tape to cover it up, and there are two huge knots in the bars on one side, just to name a few faults, there is absolutely no comparison, my first thought when I saw your tree was "its such a shame I have to cover it with leather" and now that I have compared it to the manufactured tree im ready to use the manufactured tree as fire wood.
I know now that you get what you pay for, never again will I buy a manufactured tree, thank you, Rod and Denise, I could not be more satisfied with my purchuse, I will be doing business with you again soon, Mathew
Posted by
RodandDenise
on
May 18th, 2012
Mathew,
We are happy to hear you are pleased with your tree. We strongly believe that there is a difference between a true hand made tree with the maker's name on it and those produced in a different manner. Glad to know that you see an obvious difference too!
Posted by
mathew greenwood
on
May 25th, 2012
I also know that there are differences that I cant see, that you could, I really think that you should buy a new bowden or timberline tree,to dissect and compare, pacifically NEW, becouse they just dont make them like they used to, I know too many saddle makers that use these trees and swear by them, if only they knew the difference, if only there customers knew the difference...
Posted by
RodandDenise
on
May 25th, 2012
Mathew,
It is always a learning experience to rip apart a tree. We get the chance when we do duplicates. Some trees are well made. Some are "interesting". This is a good part of the reason why I started the series on Reasons to Order a Hand Made Tree. The first one in the series is here: http://www.rodnikkel.com/content/index.php/saddle-tree-blog-from-shop-and-desk/some-good-reasons-to-order-a-hand-made-tree/ I still have a few to go.
Leave a Reply