The Artisans Show at the Heritage Ranch Rodeo
We are no longer building saddle trees. We have two saddle fit videos available on our westernsaddlefit.com website. Western Saddle Fit - The Basics, aimed at riders, is available either on DVD or streaming on Vimeo while the six hour series Well Beyond the Basics, aimed more for professionals but understandable by anyone, is available by streaming on Vimeo. (We left this website up because we have had many requests to keep the information available.)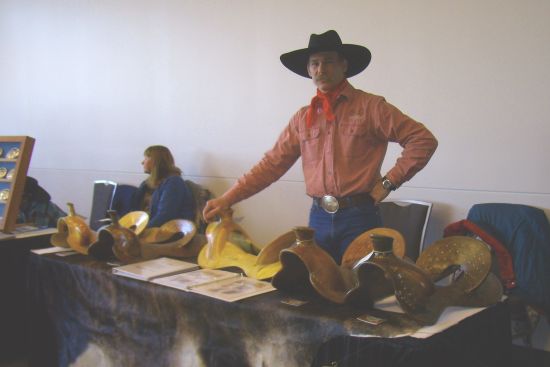 We're home again after having a table at the Heritage Ranch Rodeo Artisans show in Edmonton from November 6 to 8th.  The show had two silversmiths (Richard Brooks and Kelly McRae), two rawhide braiders (Wayne Beven, John Loree), a western photographer (Kim Taylor) and four saddle makers as well as ourselves.   Here's how our table looked with Rod standing there, waiting to talk to anyone who came by. 
It was quiet at times during the show and so we did lots of visiting with the other makers.  Since saddle makers spend most of their time alone in their shops, getting a chance to talk with people is a real novelty.  I can't think of any other reason why in almost every picture, someone has their mouth open...  Here Steve Mason (in the grey vest) has the floor, while Derek Pitts (right), Dave Kallal (left center) and Rod (with his back to me) listen in.  Andy Fadeeff is a bit camera shy and had just left the group.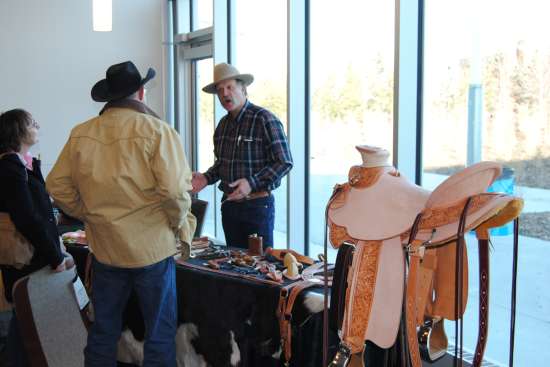 Here's Andy Fadeeff at his booth, explaining something to an interested party.  Andy has been the driving force behind the Artisan's Show and we are thankful he invited us to participate this year.  Andy's business is called Andy's Saddlery in Stavely, Alberta.  He builds on some of our trees, and has been since 1998.
Here's Steve's booth where he is also talking to a potential customer.  Steve Mason Saddlery is in High River, Alberta.  Steve has been a customer of ours since 1997 and the saddle shown here is built on a High Country tree we made for Steve.  Good thing this picture was taken early on in the show because Steve's table was cleared off pretty well by the end of it.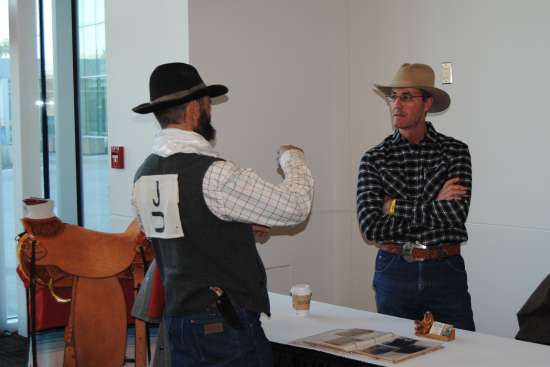 Here Dave Kallal is breaking the pattern by listening to Dale Keats of Sleepy Springs Ranch, one of the competitors in the ranch rodeo.  Dave basically builds only saddles, which explains the almost bare table, but he brought a couple saddles with him.  After checking through his photo album, I had to tease him that his camera only works in the winter because almost all his pictures had snow in the background!  This makes sense when you know that Dave still rides full time in the summer and builds saddles all winter.  Dave lives outside Clyde, Alberta.  In October of 1996, he ordered the 25th tree Rod ever built and has been building on our trees ever since.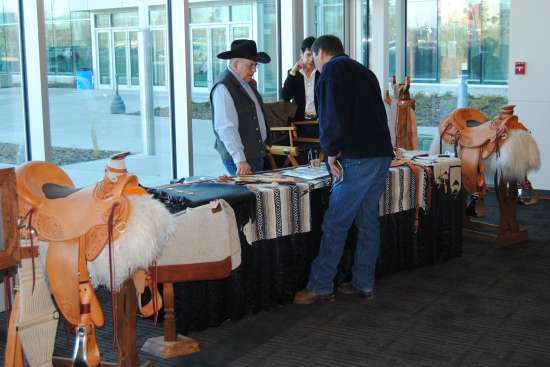 Deryk and Norma Pitts of Deryk Pitts Saddlery came up from Condor, Alberta to be in the show.  Deryk also appears to be enjoying talking to visitors to the show.  Deryk has been building saddles for over 40 years and has worked with some pretty well known makers over the years.  Besides the saddles and other leather work, he also builds his own trees.  
The ranch rodeo was great to watch.  The Gang Ranch of BC won, High Plains of Saskatchewan came second and Douglas Lake of BC came in third.  We got a chance to visit with a number of customers who had built on our trees, some of whom we had never met before.  And a fair number of people stopped by to look at the trees and tell us they were riding one of ours.  It was fun to hear the stories of where our trees have ended up and how they are being used.  That is, after all, why we build them!
Comments: