Of storms and non-Wade trees
We are no longer building saddle trees. We have two saddle fit videos available on our westernsaddlefit.com website. Western Saddle Fit - The Basics, aimed at riders, is available either on DVD or streaming on Vimeo while the six hour series Well Beyond the Basics, aimed more for professionals but understandable by anyone, is available by streaming on Vimeo. (We left this website up because we have had many requests to keep the information available.)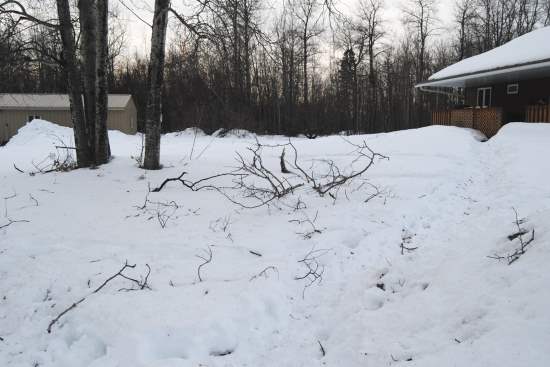 On January 14th, there was a major windstorm all through northern Alberta with record breaking winds of up to 120 km/hr (75 mph).  Now that may not be much to people in flatland country, but up here in the bush, we don't get winds like that very often – as evidenced by the fact that they broke records…  Our yard is pretty sheltered normally, but we had some big branches come down in our front yard.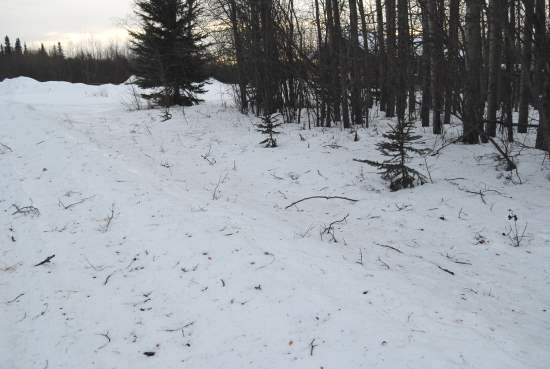 Our whole yard, and everywhere else for that matter, was pretty trashed with branches, twigs, and the final clinging leaves cluttering up the normally pristine snow cover.
A couple big trees around the yard went down too, including this 80 foot tall spruce tree by our driveway which snapped about 8 feet up.  They were both in the bush rather than the yard itself so we didn't need to clear them away.  But our yard was minor.  The overall damage was massive.  All over the province, multiple power poles in a row had snapped.  Even if the poles stayed up, trees were down on power lines all over, internet and cell towers went down, and anything that was relatively light and not frozen down (like, for example, empty grain bins) were "actively dislodged" from their normal residence.  (We passed a truck topper still sitting cockeyed on a fence a couple nights ago.)
We were without power for 56 hours – from Tuesday night to Friday morning.  And as I write on the afternoon of February 1st, we are still without internet, though they hope to have it restored soon.  Amazing how something we didn't even really use 10 years ago has become so vital to our everyday lives.  Nothing like driving a 50 mile round trip to get e-mails.  Although, come to think of it, we drive that to get regular mail…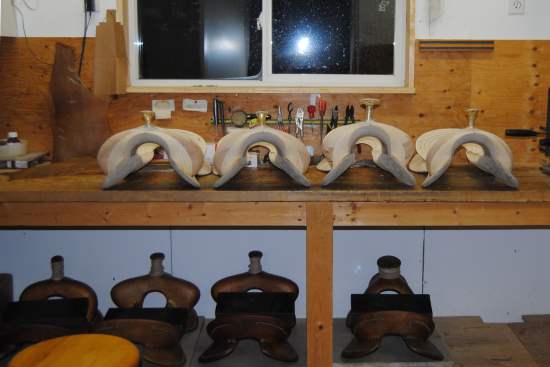 However, that doesn't mean we haven't been working around here!  (Well, once the power came back on in the shop anyway...)  And during the last 3 months, we haven't made nearly the number of Wades we normally do.  We have made far more swell forks and metal horn slick forks for a change.  (I told you they came in waves…) 
| | |
| --- | --- |
| | |
| 13 inch Packer | 11 inch Chuck Sheppard |
It started early in November, and we got eased into it with only three out of the set of four being swell forks, and one of them had a wood post horn.  The metal horns were on a 13" Packer and an 11" Chuck Sheppard.  They wanted the Chuck Sheppard fork at a stood up angle, which isn't common, but we can sure do it.
| | |
| --- | --- |
| | |
| 12 inch wood post Bowman | Wood post 3B |
The 12" Bowman had a wood post horn, which helped with clearance on the very narrow, tall withered horses these customers ride.  This tree had a 3 ½" hand hole width and an 87 degree bar angle, along with a 7 ¼" hand hole height (8 ¼" gullet height).  You can see how tall and narrow the arch is on this tree to get the clearance needed.  The fourth tree was a wood post 3B with 4 ¼" stock.  It has an old timey looking cantle and a young fellow who is going to build the saddle for himself chose the look he wanted.
| | |
| --- | --- |
| | |
| 12 1/2 inch wood post Packer | 13 inch wood post Will James |
In the next set, two of the trees were Wades and the other two had wood post horns, so we didn't make a dent in our metal horn inventory that week.  The 12 ½" Packer was ordered with a very low gullet height of only 6 7/8", which gave a hand hole height of 5 ¾".  You can see how low the arch at the back of the fork is on this tree.  You wouldn't want to use this one on a horse with very high withers but for this customer, it will work well.  The 13" Will James was ordered with 5" of stock, and made a nice looking tree.  Like I wrote about before, a lot of the orders we get for Will James trees have a wood post horn on them.
| | |
| --- | --- |
| | |
| 14 inch Arizona Roper | You can see the backsweep in this picture. |
The following set had three metal horn swell forks, plus a token Wade, just so Rod could keep in practice with them…  Two 14" Arizona Ropers have headed down to Kansas.  This customer asked that we take ¼" extra out of the side cut compared to the ones on our website, so we now have a "Modified Arizona Roper" pattern hanging on our wall.  This fork style has backsweep and is popular down in the "swell fork country" of the Texas, Oklahoma, Kansas area. 
| | |
| --- | --- |
| | |
| 12 inch Buster Welch | Stood up fork on this tree |
The third tree was a stood up 12 inch Buster Welch.  While most forks are usually ordered either stood up or leaned ahead, this is one fork style that is often ordered either way.  (Of course, we can put any fork at either angle on request, as we did for the Chuck Sheppard above.) 
| | |
| --- | --- |
| | |
| 11 inch wood post Modified Association | Fork on kid's Modified Association tree |
The next set had a Wade, a couple really different trees which I will write about eventually, and a kid's Modified Association tree with a wood post horn.  The kid's tree had only a 4" stock thickness (most wood post trees have a minimum 4 ¼" stock thickness) to balance the look of the fork with the small size of the tree.  This one will be going to a working ranch so it needed to fit a child, yet be big enough for them to grow into and strong enough to rope from, though I don't think they will be roping the bigger animals from it.  However, you never know what ranch kids will try…
Out of the next twelve trees, eleven had metal horns.  (Yes, Rod has phoned Herb Bork recently…)  But I will show you those in another post…
Comments:
Leave a Reply