Something different!
We are no longer building saddle trees. We have two saddle fit videos available on our westernsaddlefit.com website. Western Saddle Fit - The Basics, aimed at riders, is available either on DVD or streaming on Vimeo while the six hour series Well Beyond the Basics, aimed more for professionals but understandable by anyone, is available by streaming on Vimeo. (We left this website up because we have had many requests to keep the information available.)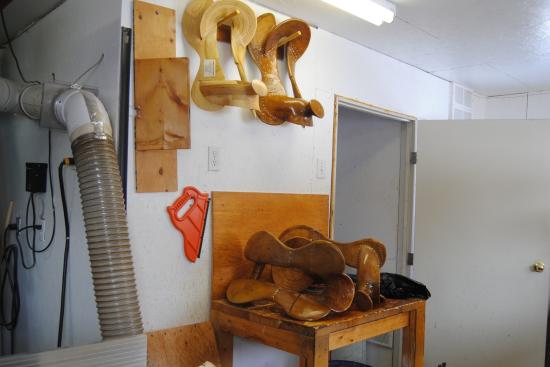 Today I took the camera out to the shop to take pictures of something new and different to put up on our blog.  Here's what I came up with...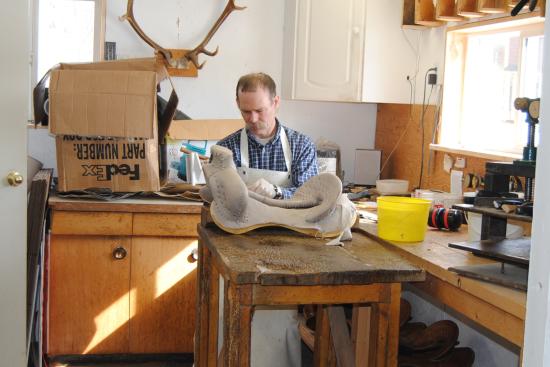 Well, here's Rod rawhiding a saddle tree!!  But I guess I have written about that before.  Even more than once…  (But this one is a 14" wood post Arizona Roper.  I don't think I have put up a picture of that before, so does that qualify as different?  Maybe not...)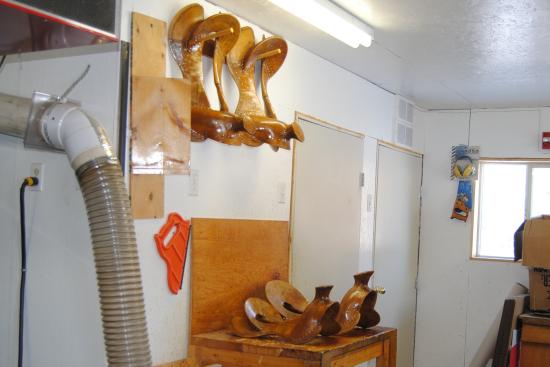 I varnished and took pictures of the set of trees that will be shipped out later this week.  They happen to all be "Wades", and it is amazing the variety of specs we can get…  Oh yeah, I wrote about that before too...  (And, is that far one on the bench really a Wade?  Nope, not quite...)
And one of these is an itty-bitty kiddies tree!  We sure don't make many of them, but I guess when we do I make a note of it on the blog…
We spent part of the day derawhiding and deconstructing a tree we have in to duplicate.  But I talked about that a long time ago…
And then I had to make up patterns to make the duplicate – but I wrote about that way back when too…
I finished gluing up bars differently than normal, but that is because they are for a side saddle!  But you know about them too…  I forgot to take pictures of me using the new patterns, but that is OK, because that is old news to you as well…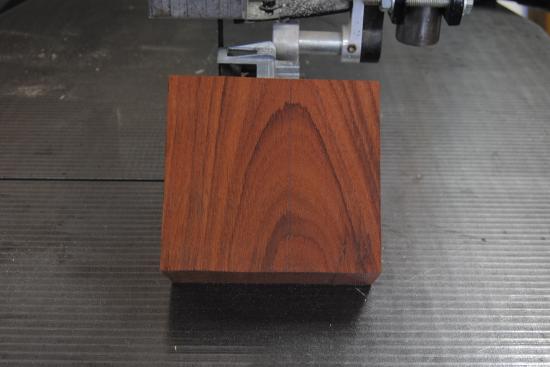 I marked out another couple Jarrah horn caps for exposed wood horns – but I have told you about some of those before, a couple of times...  We've been building a few of these over this past winter.  I guess having pictures on the website is the same as having it sitting around the shop…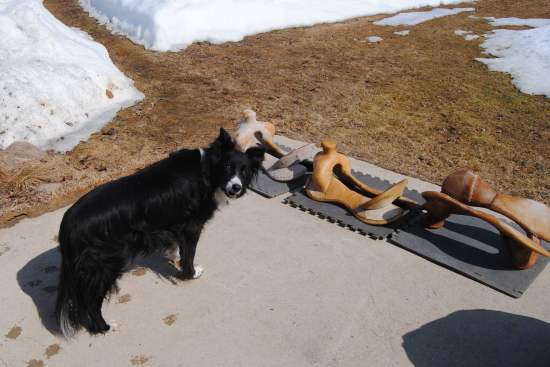 Rod had put the recently rawhided trees outside again, but I talked about that a couple weeks ago…  (And we've shown you pictures of our quality control inspector at work before too…)
So I was getting pretty discouraged looking for anything different to write about.  Then I found it!!
The third rail on our fence is now visible!! 
Comments:
Posted by
brent
on
Apr 17th, 2013
Keep up the good work. Like reading your posts, even if they are on the same subjects. How about talking about your roping trees, i know you do a lot of wades, but how about diffence in trees for roping saddles IE:calf roping/team roping saddles.
Posted by
RodandDenise
on
Apr 17th, 2013
I'll keep that in mind Brent, and try to put something together next time we build a roping tree.
Posted by
val
on
Apr 17th, 2013
Denise,
I'm really happy that your so excited about seeing that fence rail, and I hate to burst your bubble, but...we have crocuses blooming for over a week and the daffodils are almost flowering. Besides that the horses are starting to nibble grass along with their hay!
Leave a Reply