Saddle trees and gravitational pull
We are no longer building saddle trees. We have two saddle fit videos available on our westernsaddlefit.com website. Western Saddle Fit - The Basics, aimed at riders, is available either on DVD or streaming on Vimeo while the six hour series Well Beyond the Basics, aimed more for professionals but understandable by anyone, is available by streaming on Vimeo. (We left this website up because we have had many requests to keep the information available.)
We don't do a lot of trade shows, but we have done a few in different places.  We usually try to take a variety of trees with us - a finished Wade, a finished wood post swell fork, a finished metal horn swell fork and some of these in the wood so people can see how they are built.  Whether we can take this variety depends on what we have ordered at the time since we don't build trees just for shows.  (We can't sell anything when we go to the US anyway because of their import laws.)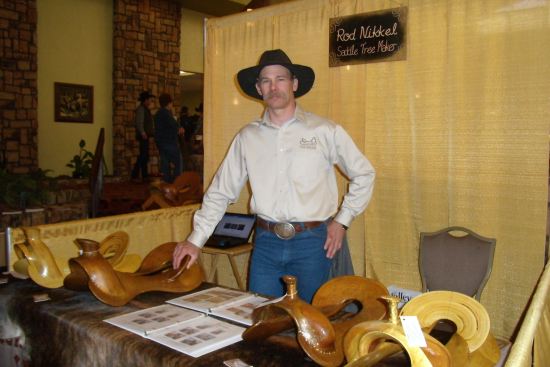 It is always interesting to see the differences in the styles of trees ordered from different parts of the country, and different countries for that matter.  Despite the internet and instantaneous communication, there are still very strong regional preferences in the type of saddle people want to ride.  In Sheridan, at the Rocky Mountain Leather Trade Show, it is a Wade.  That is the tree people will gravitate towards, put their hand on the horn, pick up to look at.  Because of the area in the country, a Wade draws attention.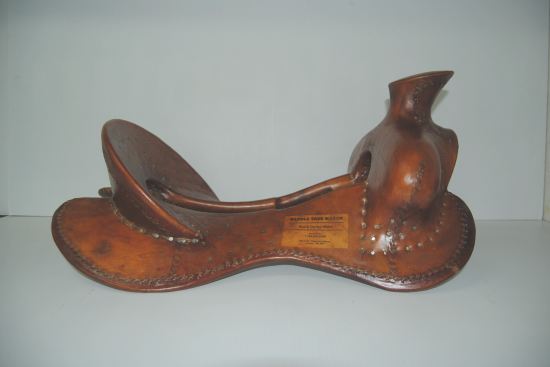 But in Wichita Falls, Texas, where we attended the Boot and Saddle Maker's Show in 2010, people ignored the Wades and went for this one - a wood post Will James.  This was the tree everyone reached for first thing and commented on.  It was a nice looking tree, of course, but it was the Will James fork that drew attention "down south".  (You know, we flew from Northern Alberta down to Oklahoma City with a suitcase and two big boxes with a couple trees in each, had to get a larger car to carry it all, trundled our stuff all over as we attended the TCAA show, travelled to see the country for a few days, did the show in Wichita Falls, and flew home again - and didn't take a picture of our booth...)
At this year's Artisan's Show at the Heritage Ranch Rodeo, we had a Wade tree with an exposed Padauk wood horn cap to show, and that was the one everyone went to first thing.  We have done a fair number of exposed horn caps this year and with the amount of attention this tree got in Edmonton in November, I wouldn't be surprised if we got a few more orders for them.  They really are beautiful.
Most of the exposed horn caps we have done have been Jarrah, which is an Australian wood.  We have a few saddles out there that have been cowboyed out for a few years and the Jarrah had stood up well to time and use.  We only have one other tree made with Padauk and it just went out this year and was used this summer.  So far, it is holding up well too.  We can't guarantee long term though.  Padauk is a beautiful wood, with a strong grain that changes color depending on the light and which direction you look at it from. 
So why am I telling you this?  Well, that tree is up for sale...  We built it last March and have held it since.  The original customer has had a tough go over the intervening months and called today to say he just can't manage to pay for it in the foreseeable future.  So, for those who admired it in person or for those who like the look of the pictures, it is available.  All specs and information is on our Saddle Trees for Sale page.  And with the gravitational pull in this tree, you better believe people will be looking at the saddle that gets built on it!
(Note:  this tree has been sold.)
Comments:
Leave a Reply