Reasons 6 and 7 - Communication with us directly and good customer service
We are no longer building saddle trees. We have two saddle fit videos available on our westernsaddlefit.com website. Western Saddle Fit - The Basics, aimed at riders, is available either on DVD or streaming on Vimeo while the six hour series Well Beyond the Basics, aimed more for professionals but understandable by anyone, is available by streaming on Vimeo. (We left this website up because we have had many requests to keep the information available.)
I'm moving on to section two of the good reasons to order a hand made tree:  Relationship with the treemaker.  While these may be true of any company, the larger a company gets, the harder it is to maintain that "personal touch".  Because there is only two of us, you get to talk to us directly, and when our name is on the tree, we want to make sure you are happy with it.
| | |
| --- | --- |
| | |
When you call to order a tree, the phones in both our house and in our shop ring.  I (Denise) usually answer because Rod is often can't hear over the equipment in the shop when he is doing woodwork.  And when he is rawhiding, well, he prefers me to answer anyway...  I can answer a lot of the questions people ask, but if they want to talk with Rod, he is pretty much always available.  (The exception to this is when he is making rawhide.  I wonder why????)  And if we happen to miss the call when the equipment is running when we are both in the shop, or on the very rare occasions when we aren't around, please leave a message.  We will get back to you.
| | |
| --- | --- |
| | |
By the way, these little gadgets are priceless - intercoms that go between the house and the shop via the electrical wires rather than wireless.  We've worn out about 3 or 4 of them over the past 14 years that we have lived here, but they have definitely been worth the price.  I can answer the phone and if the customer wants to talk to Rod, I just call him on the intercom and he picks up in the shop.  Not too expensive at the common, (relatively) local digital type store.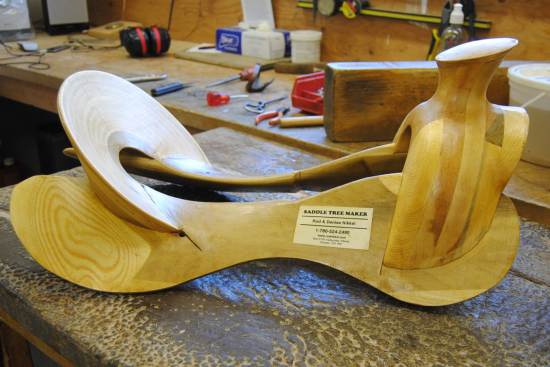 People still occasionally ask us "what is the guarantee on your trees?"  We don't have a set guarantee as far as number of years, etc.  We just say that we stand behind our trees and if you ever have a problem with one, we want to the be first ones to hear about it.  We promise to work with you to do what is needed to make things right to the best of our ability.  After all, it is our name on there, and that means a lot to us.  (Besides, after 16 years and over 2100 trees we have never had a broken one come back yet.) 
One of our goals as a business is to keep our customers happy.  We want to make trees the way you like them, so if you want things a little different on your next tree, just let Rod know and he'll try to do it for you (unless he feels it will be detrimental to the horse.)  It is important to us that you enjoy building on our trees - and that you don't dread calling us either.  We enjoy talking to our customers and have learned a lot from you over the years.  Besides, talking about saddles and horses and trees (and cows and the weather and life in general) is fun!  And if we can help you in some way, we're sure open to doing that.  We make our living by serving our customers, and we aim to do that as well as we can.  We consider it a privilege to call a lot of you friends as well as customers.
If you want something special, we can do that too.  (But that's the next reason it is a good idea to order a true hand made tree!)
Comments:
Leave a Reply