Once every ten years...
We are no longer building saddle trees. We have two saddle fit videos available on our westernsaddlefit.com website. Western Saddle Fit - The Basics, aimed at riders, is available either on DVD or streaming on Vimeo while the six hour series Well Beyond the Basics, aimed more for professionals but understandable by anyone, is available by streaming on Vimeo. (We left this website up because we have had many requests to keep the information available.)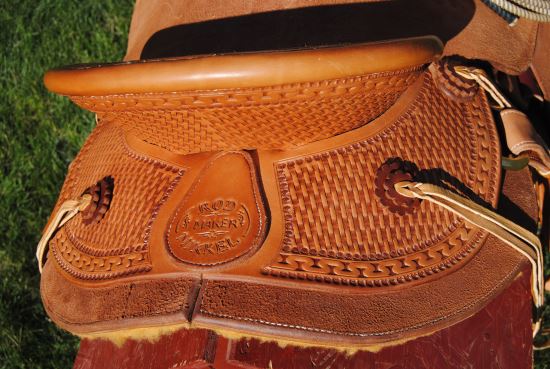 Rod builds a saddle!  Well, I can't say for sure how long it will be before he builds another one, but it took 10 years between the first and the second anyway...
This is the saddle he built in 2003.  He went down to Edmonton and built it with the help of a good customer of ours, Jim Townshend.  Jim has since moved to Okotoks, Alberta where he opened up Okotoks Saddle and Tack.  Thanks Jim!!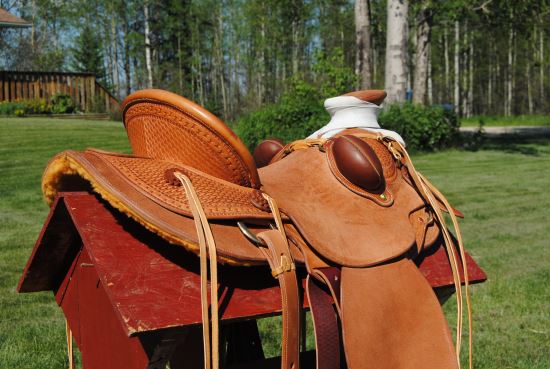 This is the saddle he built in our basement over the last winter.  For this one, he visited our good friend Vern Rempel at VR Saddlery in Debolt, Alberta who did the machine sewing for him.  Vern also built the bucking rolls and did up Rod's maker's mark on the frog.  Thanks Vern!!
Let's compare the saddles and see how much Rod's preferences in tree specs have changed over the past ten years.
The old one is a 9 1/2" wide Wade fork with a 3" high x 4" cap horn at 30 degrees.  He eventually added bucking rolls to it too.  The new one is a 9 1/2" wide Wade fork with a 3 1/4" high x 4" cap horn at 30 degrees.  Hmm.  Big difference there...
Both cantles are 4 1/2" high, 12" wide at 37.5 degree angle.  The seat length and thigh length are 3/8" longer on the new tree.  (No, it's not Rod that needed that change...)  So not much change in the look of the tree.  I guess Rod knows what he likes... 
Fit wise, the first one had a 4 1/4 x 93 degree bar configuration.  Huey was a rounder built horse and we already had narrower saddles, so we wanted a variety of fits.  Rigging wise, this one was at a 7/8th position.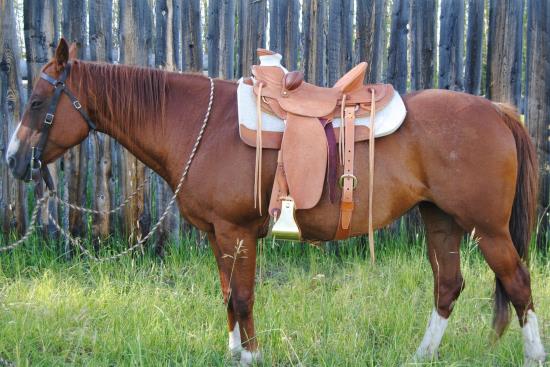 The new one has a 4 x 90 degree bar configuration.  Dancer has more of the "typical Canadian ranch horse" back.  This one is 3/4 rigged. 
Rod built the fenders on the first one so the stirrups could be made very short for visiting nieces and nephews who were quite small (or non-existent) at the time.  Since they are now older, the fenders don't have to go up so high, so they are better shaped at the top.  He also put the latigo carriers behind the front cinch ring on this one.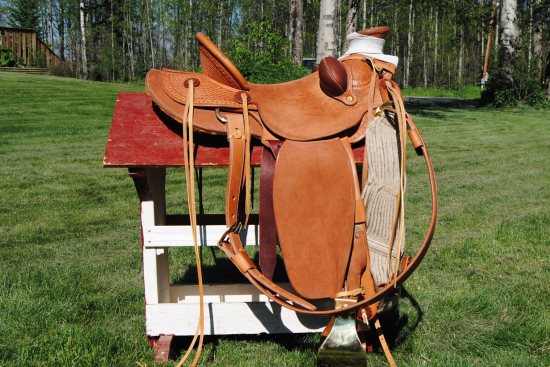 Rod really wanted to try some basket stamping, so he made this one a half breed.  And he wanted to do a bead roll rather than a Cheyenne roll.  He again learned a lot building this one, and is really pleased with how it turned out for a second saddle.  It has had a couple rides on it so far and he is really happy with the seat and the fit for the horse.  I'm not so happy with the mud on it...
Checking out these old pictures is kinda fun.  No, I didn't go and find them till after the new ones were taken.  Same bridle.  Same hat (though we had the Calgary Hat Doctor fix it up a few years ago).  He has the same chaps, though he didn't bother to put them on just for pictures last night.  The wind fence was obviously new that year, and it has turned grey over the last 10 years.  And if you look close, there's a bit of grey in the moustache too...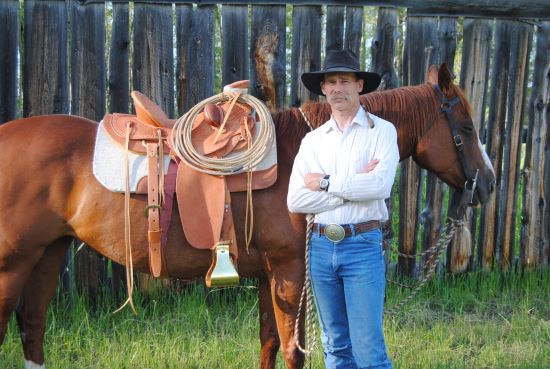 But he's still as good looking as ever!!  Oh, right, it's the saddle I'm supposed to be looking at...
By the way, Rod says he has his list of critiques and things he wants to do better next time, but any comments or suggestions on the saddle would be greatly appreciated.
Comments:
Posted by
Leigh Blackhurst
on
Jun 19th, 2017
My husband has a Jim Townsend saddle on a Rod Nickel tree and loves it. He has used it for at least 20 years and it is used hard as he rides pasture as well as on our own ranch. He has worn through oxbow stirrups, an inlaid kangaroo hide seat, as well as had to have the leathers repaired just to give you an idea of how much it is used! The saddle fits every horse shape & size doesn't matter. He recommends your tree to everyone inquiring on what to buy.
Posted by
RodandDenise
on
Jun 19th, 2017
Thanks for the comment, Leigh! Jim's saddles are made to use hard, and I'm sure he will smile to hear this!
Comments: