Old and new
We are no longer building saddle trees. We have two saddle fit videos available on our westernsaddlefit.com website. Western Saddle Fit - The Basics, aimed at riders, is available either on DVD or streaming on Vimeo while the six hour series Well Beyond the Basics, aimed more for professionals but understandable by anyone, is available by streaming on Vimeo. (We left this website up because we have had many requests to keep the information available.)
We've been rather busy the last few weeks. Here's some of what has changed around here…
The OLD truck is not that reliable anymore (ie. I've been wondering when it will leave me stranded on the side of the highway when I go to pick up hides) so after looking for a while we have a NEW-to-us truck. It's a 2004 and more truck than we were looking for, but it will do the job for us plus. The OLD truck will stay here to be our "run around the pasture and abuse it" type farm truck. Not much $$ if we try to sell it and it has been doing a good job in that capacity for a couple years already…
When we went to Edmonton to buy our yearly supply of wood, we also stopped at Lee Valley to pick up a few other necessary tools. The OLD dust chute had pretty much given up the ghost, having finally cracked across both sides of the bottom and with one magnet coming out on a regular basis. So we bought a NEW one.
This little addition to our dust collection system works extremely well. The four magnets on the bottom are very strong and hold the hose for our shop vac in just the right place. Now, that right place changes between all the different kinds of cuts Rod makes, so I have no idea how many thousands of times the OLD chute has been wrenched off the table (those magnets really hold it down!) and moved in the seven years we have had it. Considering the use it got, no wonder it finally broke. I hope the NEW one lasts as long!
The OLD pea vines are gone, but the NEW beans are growing extremely well, as are the beets, carrots, zucchini, peppers, tomatoes…
There is a NEW roof on our relative's cottage, because the OLD roof was rather lacking in a few essentials, like water proofing and insulation. I guess it was time to go give him a hand, being as the family not only came up and worked during our Bring Your Own Tent and Tools Family Reunion/Shop Expansion weekend in 2007, but our brother in law also came up in 1998 and did all the wiring, plus other things, when we built the shop originally. It is nice to be able to reciprocate the help…
We had some OLD hay left but have the NEW hay in for the year. (We had the tarps off to let the stack air a bit, so it was a good time to take a picture.) The day we did this was rather exciting, what with the fire and all…
You've seen lots of pictures of Arnie before so his bones are OLD news to you. Besides, he was over 30 years OLD, so they really are OLD bones. But we had visitors for over a week in July who were playing with some NEW bones. These will hopefully be useful in helping archaeology learn more about what is "normal" in horses so they have more reference material against which to compare their ANCIENT bones…
We are also unfortunately having to replace our OLD source of wrapping paper for shipping trees with NEW full rolls of newsprint. Unfortunate, because the OLD ones were free and tall, and the NEW ones are purchased, and much shorter. But with the change in the newspaper industry due to the internet, our OLD source of newsprint is no longer available – which is really quite regrettable…
Rod replaced the OLD bar holding jig with a NEW one, since the OLD one had, after years of use, decided to break at a crucial spot. Now it will serve another purpose – as firewood, for a short time only... (Rod thought this picture would make a great jigsaw puzzle!)
And, as always, there are NEW trees, at various stages of production, being built in the shop. The tree in the wood is a wood post 3B fork with an 8" gullet height to fit horses with a taller wither on them. The rather unusual assembly on the left is the best way Rod has found to dry cantle slots so the rawhide doesn't pull into the holes too badly. He has to shape these pieces individually to each tree to get them right, but fortunately, we always have wood around to use for this job...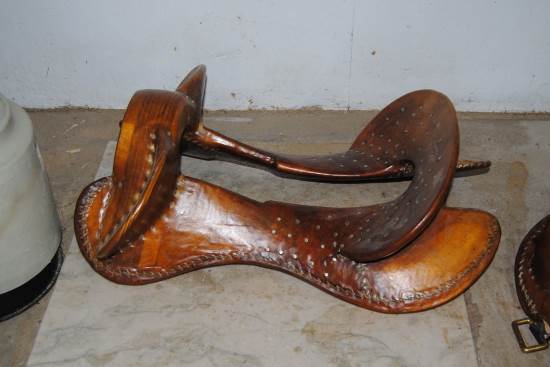 And then there is this tree still here. It's not quite a year OLD, but it is still for sale. Not a lot of hand made Aussie style (Western Stock) saddle trees in North America, but here's one that is ready and waiting…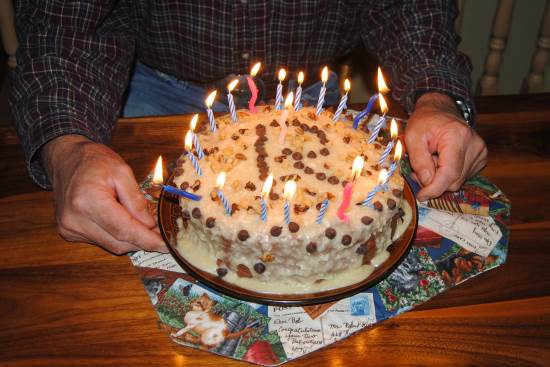 And this was a NEW cake on July 24th. (Thanks Kat and Jess!) But I won't tell you what was OLD…
Comments:
Leave a Reply