Off to the Heritage Ranch Rodeo
We are no longer building saddle trees. We have two saddle fit videos available on our westernsaddlefit.com website. Western Saddle Fit - The Basics, aimed at riders, is available either on DVD or streaming on Vimeo while the six hour series Well Beyond the Basics, aimed more for professionals but understandable by anyone, is available by streaming on Vimeo. (We left this website up because we have had many requests to keep the information available.)
Well, Saturday we are headed south to Edmonton.  We have been invited again this year to participate in the Artisan's show during the Heritage Ranch Rodeo during Farmfair.  We'll be there all day Sunday, Monday and Tuesday, along with a great group of saddle makers, silver smiths, braiders, and maybe more.  We sure enjoyed it last year and are looking forward to this year's show.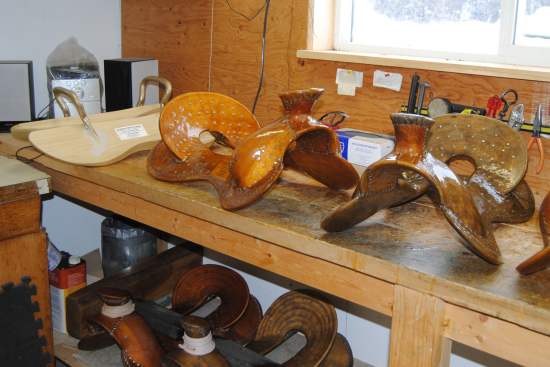 One of these trees will go with us to meet its maker - saddle maker, that is - down south.  The Decker pack tree was shipped off to Germany today, and the Wade went to New Hampshire.  That leaves the 12" wood post Packer to go to Edmonton with us.  And in case you think you have seen this tree before, you're right!  This set of newly varnished trees are the ones you saw a couple weeks ago in the wood.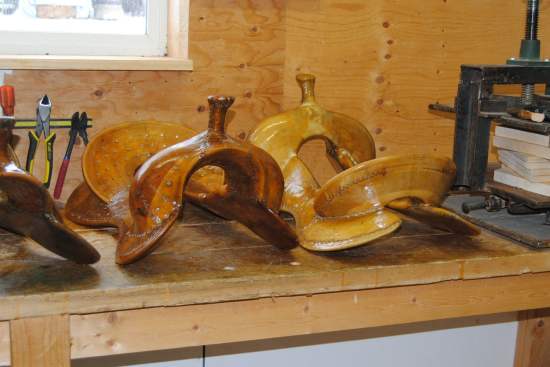 Here are the two barrel trees we talked about in that previous post, but now you can see the 11" Bowman (the narrower one on the left) looking the way it should!  Amazing the difference between a freshly rawhided tree and the finished product.  While all rawhide looks pretty whitish when soaking wet, you can see the difference in color of the hide in the finished product.  The one on the left was a black and white, while the Bowman was a red.  That one is also going south with us, as the customer has graciously allowed us to keep it an extra week.
Here's another one that is going south with us.  It has been hanging around the shop for a few months and the customer that ordered it has been a little elusive to get a hold of on the phone.  So if someone desperately wanted to buy it, we'd let it go...
It has a 13 1/2" wide Modified Association fork with a 7 3/4" gullet height.  The hand hole width is 4 1/4" with 93 degree bar angle (remembering, of course, that bar angles are meaningless between makers..) so it will fit a good proportion of today's horses - the ones that are a bit bigger and broader backed than the "typical ranch horses" of 20 years ago.
It has a 16 1/2" seat length (10" thigh length) so would suit a larger rider.  The cantle is 4" tall, 13" wide with 1 1/4" dish at 37.5 degree angle.  The horn is 3" high with a 3" cap.
And we'll be bringing this one with us too.  It is a Wade with a beautiful, exposed Padauk wood horn cap.  It has been hanging around the shop for a while too, but its owner answered the phone, so he gets a bit longer to finish paying for it.  We really do try to get the trees to the guys who order them.  We understand that sometimes life throws curve balls, and if you are honest with us, we'll work with you on things as much as we can.  But since we still have it on hand, more people will get to see this gorgeous wood.  It really is "purdy lookin' "...
We'll also have a Wade in the wood to show people how we make them, but I don't have a picture of that one.  So if you want to see it, you'll have to come visit us in rooms 107 and 107A, just up the hallway across from Hall E and F in the EXPO center.  Just promise not to drool on the saddles, silver and braiding that will be in the room...
Comments:
Leave a Reply