Last week in the shop
We are no longer building saddle trees. We have two saddle fit videos available on our westernsaddlefit.com website. Western Saddle Fit - The Basics, aimed at riders, is available either on DVD or streaming on Vimeo while the six hour series Well Beyond the Basics, aimed more for professionals but understandable by anyone, is available by streaming on Vimeo. (We left this website up because we have had many requests to keep the information available.)

Two Wades, two Buster Welch cutters.  All ordered by the same maker, these trees are going to Australia.  Here they are with all three coats of varnish on them.  Rawhiding is the next step in their production.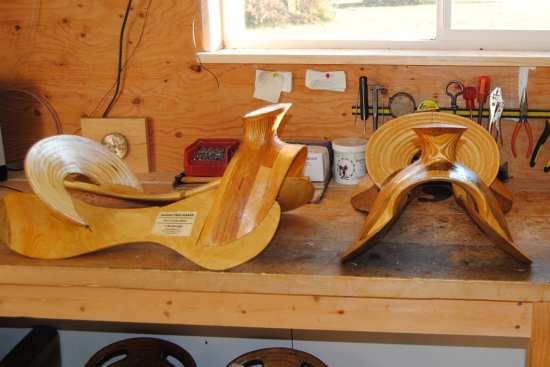 The only difference between the Wades is the seat length.  One is 15 1/2" and the other is 16".  Both have the fork "width" of 8 inches.  The fit on both trees is 4 1/4" hand hole width with 93 degree bars.  It is important to realize that with hand made trees, these measurements are independent.  We are getting more orders for 4 1/4" hand hole with 90 degree bars.  The horses are broader but the wither shape is the same so they need more bar spread but not more angle.  On the other hand, we do a fair number with a 4" hand hole and 93 degree bars, for the horses that are not necessarily wide but are a bit rounder backed.  It also helps those horses who tend to live on the hefty side.  That extra 1/8" to 3/16" across the bottom helps relieve the additional pressure on the bottom of the bars that may occur due to the extra pounds or the rounder back.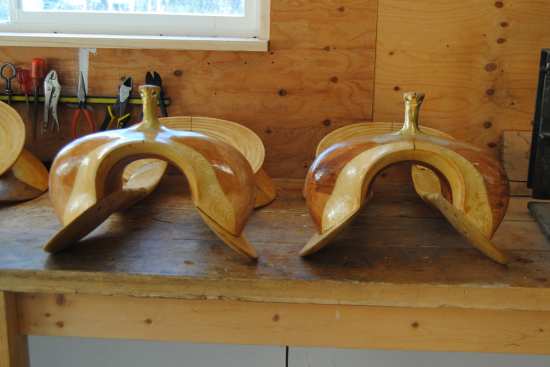 The Buster Welch trees are also identical except for seat length.  One is 15" while the other is 15 1/2".  These may sound like shorter seat lengths, but with the 3" tall cantles, the thigh length on them is 10 1/8" and 10 1/2" respectively.  Consider that in all day riding saddles, most people fit in a thigh length between 8" and 10", these are longer seats, as is common with cutting saddles.
The Buster Welch fork shape is very similar to a number of other "names" of forks - Dina Special and Olin Young to list a couple.  They all round down directly into the bars.  This is as opposed to, say, a Modified Association that comes in under the swell but then goes back out a bit before attaching to the bars, as pictured in this post.  Originally, there were differences in the stock thickness or the width of the fork between the different names.  Even the angle of the fork relative to the bars could have been given a different name.  Now the name basically refers to the shape of the fork and the other specs are set by measurements.  It may not be historically accurate, but the customer knows exactly what he is getting with pictures of the fork and specs for the rest.  We always try to have as clear communication with our customers as possible, and using measurements really helps.
Comments:
Leave a Reply