Just some shots around the shop
We are no longer building saddle trees. We have two saddle fit videos available on our westernsaddlefit.com website. Western Saddle Fit - The Basics, aimed at riders, is available either on DVD or streaming on Vimeo while the six hour series Well Beyond the Basics, aimed more for professionals but understandable by anyone, is available by streaming on Vimeo. (We left this website up because we have had many requests to keep the information available.)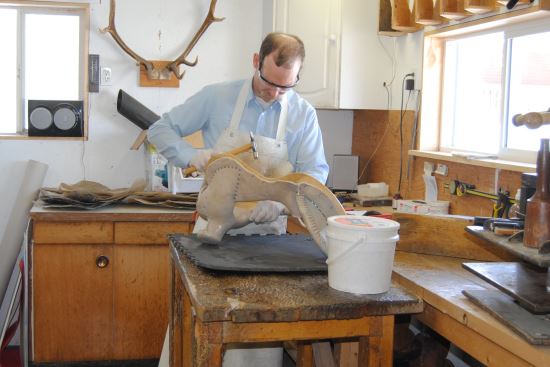 Just another normal work day around here, so I took the camera to the shop to see what I could see.  So, here's Rod rawhiding another Wade tree.  This one's headed to California.  You've seen a fair few pictures that look pretty much like this before, but that is just because this is what rawhiding a saddle tree looks like...
Today, for the first time in 2013, Rod was able to put a tree outside!!  Rod tries to get the outside of the rawhide dried off fairly quickly, and then lets the rest dry fairly slowly.  In the shop in the winter, it can take a few days to get the outside dry even when we put a fan on the trees.  In the summer, the outside can dry in a few hours outside in the sun and wind.  Although it wasn't really warm today, it was sunny and the sun has some warmth to it now.  There was also a bit of a breeze so Rod figured that despite it being just a few degrees above freezing, it would dry better outside than inside today.  So - mark this day on the calendar!!
It has been warmer lately.  We can now see the second rail on our four rail fence!
This is a contrast to just over two weeks ago when we had enough snow to almost cover the fence.  Fortunately it was fairly fluffy snow.  If it were hard packed, the horses would be out for sure.
Back inside again, I am still gluing up the metal horn forks I did the wood up for last week.  And I hauled out the laminated wood for the next set
so I could mark them out for Rod.  He'll probably start cutting them out tomorrow.
Elsewhere in the shop, there is another tree just hanging around, waiting to be rawhided.  This one is headed to Utah.
And the last one for this set is another itty-bitty kiddies tree.  This is the second one for this saddle maker.  I think his great-nieces and nephews are getting a fantastic head start on their riding careers in hand made saddles at this young an age!  This tree will ship out to Wyoming.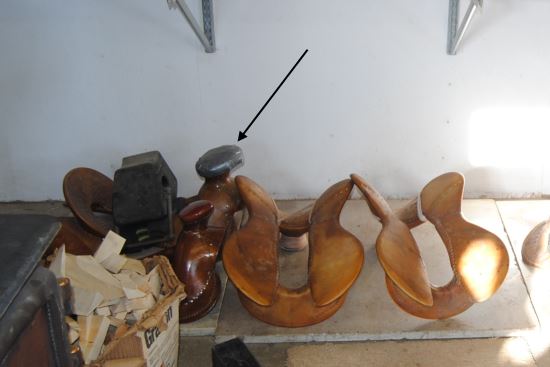 And I'm saving the best for last.  If you have watched the pictures over the past while, you may have seen this silver capped tree in the background in a few of them. This extra special deluxe model of silver horn cap was there to protect the exposed Jarrah wood horn cap beneath it.  We got the real horn cap late last week and now it looks like...
THIS!!  Dominic Valine of Dominic Valine Spurs and Silver at LaGlace, Alberta did the metal work.  Obviously photographing shiny metal so you can see the carving is an art I haven't achieved yet, so you will have to take my word that it is absolutely beautiful!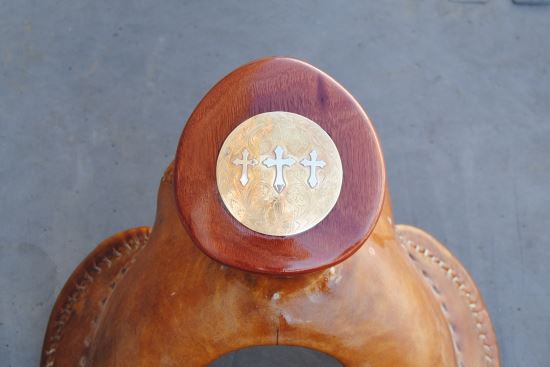 In the sun the wood glows.  In the shade you can see the wood grain better.  This is a horn cap someone will get to enjoy viewing in all sorts of conditions for a long, long time.  And it gets to stay right here in Alberta!
Comments:
Leave a Reply