It's coming...
We are no longer building saddle trees. We have two saddle fit videos available on our westernsaddlefit.com website. Western Saddle Fit - The Basics, aimed at riders, is available either on DVD or streaming on Vimeo while the six hour series Well Beyond the Basics, aimed more for professionals but understandable by anyone, is available by streaming on Vimeo. (We left this website up because we have had many requests to keep the information available.)
very, very slowly...
little by little, bit by bit, chipping away...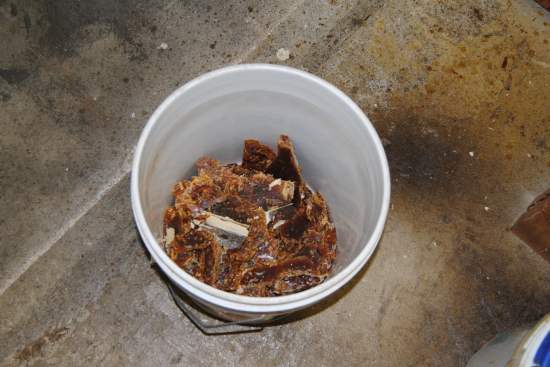 leaving chips and, very occasionally, chunks of varnish to collect.  But the smaller chips of amber varnish that fly around the shop as I chisel away have to be vacuumed up.  It is amazing how far they go!
Yet even before I get all the old stuff off, I'm adding new layers...
I'm also chipping away at writing the last post in the anatomy and biomechanics series that I started over a year ago.  September 28, 2011, to be exact.  The first post is here.  The last post, well, I'm trying...
(I did get it done, on November 13th...)
Comments:
Leave a Reply