It's been a week...
We are no longer building saddle trees. We have two saddle fit videos available on our westernsaddlefit.com website. Western Saddle Fit - The Basics, aimed at riders, is available either on DVD or streaming on Vimeo while the six hour series Well Beyond the Basics, aimed more for professionals but understandable by anyone, is available by streaming on Vimeo. (We left this website up because we have had many requests to keep the information available.)
I took these pictures on Monday evening, planning to put up a quick post that evening.  Here it is late Friday and I am finally getting the chance to work on the post.  Yup, sometimes life gets busy and goes like that.  I have lots of ideas of other posts I want to write, series I want to finish, etc...  But for now, here's some trees to look at.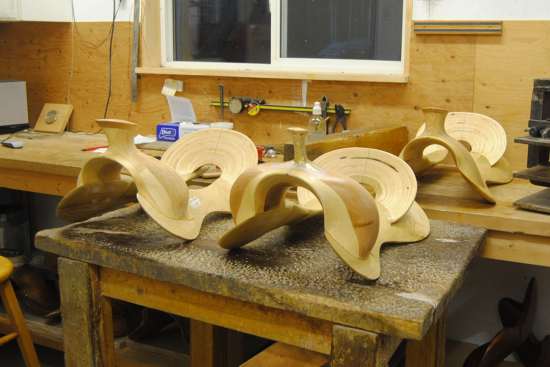 These three trees are all varnished and ready to rawhide.  Again, there is variety in every week here.  Nothing is ever the same...
This one is a thirteen inch wide Buster Welch fork style tree that is going to a trainer of barrel horses down in Florida.  She has ordered two trees with a couple of common fits so she has some variety in her barn since she will be training a variety of horses.  She ordered these trees because she has been taking courses in equine alternative medicine and along the way has learned how saddles can affect the health of the equine back negatively.  Looking at the "typical barrel racing saddles" available, she decided she wanted to put some money into good trees as the foundation, and we are glad she did!
Personally, we both prefer the look of a horn that is mounted so it is at the same angle as the fork.  But since barrel racers grab the horn when riding, there is function involved in where the horn neck and cap are relative to the rider's body, and this means that a leaned ahead horn is preferred - along with the tall horn and small cap.  (The cap will be only 1 3/4" diameter when finished in the rawhide, which means we make it 1 1/2" diameter in the wood.  Rod has to grind down the caps on the bronze horns to make them this small before he adds the wood cap.)
This one is a 12" wide wood post Packer.  This customer wanted it really low to the horse, so it has a gullet height of only 7 1/4".  With a wood post horn, there is still lots of clearance under the gullet, the same as on a Wade. (Here's a page on our website that helps explain why). 
But the challenge is to keep the shape of a swell fork while "squashing" it so it is low.  This one turned out pretty nice.  Having it this narrow really helps.  (By the way, the backdrop of these trees is our varnishing bench, complete with its build up of 5 years of leftovers from varnishing hundreds of trees.  Not pretty, but "interesting...")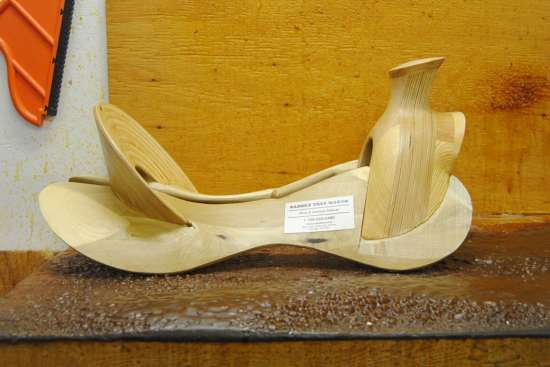 And of course there has to be a Wade in the bunch.  This one is a cute little tree (14 1/2" seat length) that will be used on some cute little horses. We know.  We've seen the pictures!  (It only has a 4 1/2" stock thickness so technically it would be classified in our books as a modified Wade since the traditional Wade tree has a 5" stock thickness.)
And then there is this one...  Remember I said there were two barrel racing saddle trees ordered?  Well, someone who shall remain nameless but whose initials are RN forgot to take pictures in time... :)   So here is a picture of a saddle tree probably at its most ugly stage of production - right after it has been rawhided.  This is an 11" Bowman style fork, and it is resting on our absolutely flat granite drying stones. 
Other than the fit (this one has a 4" hand hole and 90 degree bar angle while the other is a 4 1/4" by 93) and the fork shape, the rest of the tree is identical to the first one, including the angle of the horn.  And yes, all those lumps and bumps and hollows and dips will end up as a smooth saddle tree - when all the water leaves the rawhide!!  I'll try to remember to post pictures of it when it is done just to prove it to you!
Also, some of these trees will be on display at our booth at the Artisan's show which is running during the Heritage Ranch Rodeo November 4 - 6 in Edmonton, Alberta.  We're looking forward to going again this year and meeting more people who use our trees in one of the most demanding professions for saddles - working cowboys.
Comments:
Leave a Reply