FULL
We are no longer building saddle trees. We have two saddle fit videos available on our westernsaddlefit.com website. Western Saddle Fit - The Basics, aimed at riders, is available either on DVD or streaming on Vimeo while the six hour series Well Beyond the Basics, aimed more for professionals but understandable by anyone, is available by streaming on Vimeo. (We left this website up because we have had many requests to keep the information available.)
Today, many things were full, so I thought I would show them to you...
Under the bench where the week two trees are drying is FULL.  There are three Wades, one of them with a Hope style horn, and a wood post Will James.  The tree to the right is another Wade awaiting payment and shipping.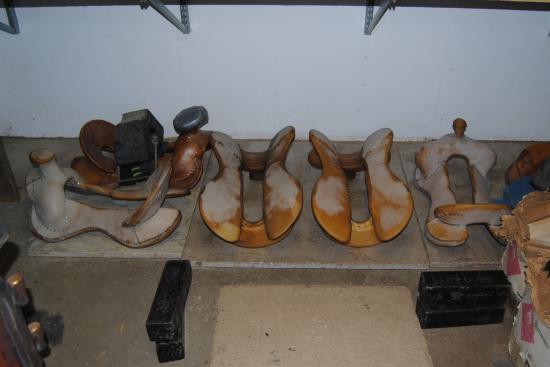 The trees Rod rawhided this week have the initial drying slabs FULL.  The tree on the left is a 9" Wade.  Then the upside down trees are an 8" Wade and another wood post Will James.  The one on the right is a 13 1/2" Modified Association.  The Wade in the back with the "silver" cap you have seen a few times already.  It is still here, waiting for its real silver horn cap to go into the exposed wood horn cap.  But we heard from the customer that the silversmith is working on it now, so we should have it soon.  It is going to be "real purdy"...
There are a couple of boxes FULL of saddle trees waiting to be shipped.  Actually, the bottom one is FULL.  The top one isn't quite yet.  Our quality control expert is making sure they are packed correctly.
The counter at the end of the shop is FULL of calf hide and deer hide to be cut into lace.  There's a lot of time looking at us right there.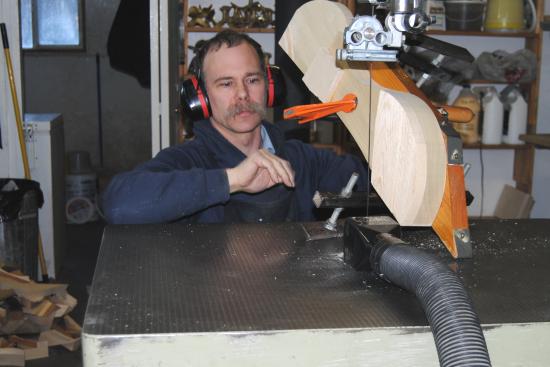 Rod was cutting out the wood for next week's trees today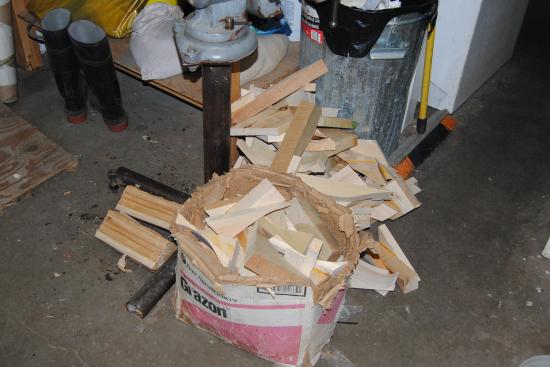 so the firewood box is FULL to overflowing.
and under the bench is FULL of the pieces he will shape and put together to become saddle trees next week.
Today I planed and then we thicknessed wood, so underneath the gluing benches is FULL of wood that I will glue up next week,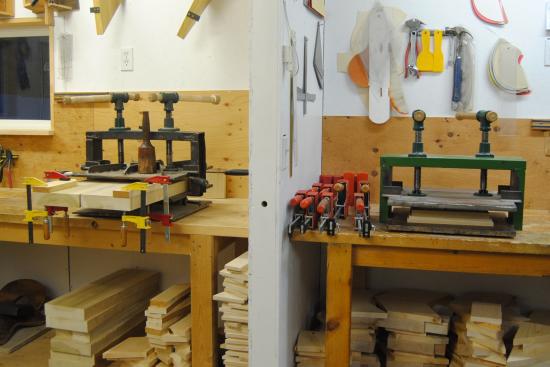 and both glue presses are FULL again too.
While we were using the jointer/planer, the dust bin got FULL and had to be changed,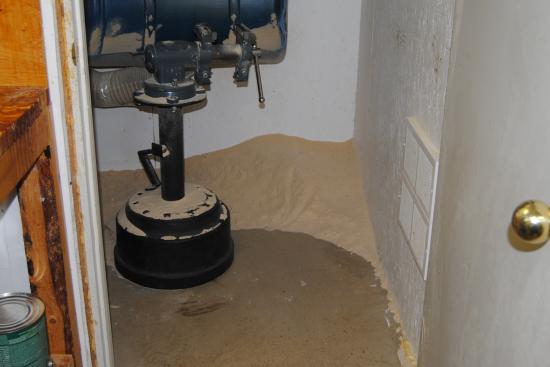 and the corner in the dirty room needs to be cleaned out because it is all FULL of sawdust.
Then we came for supper, and that made us FULL!!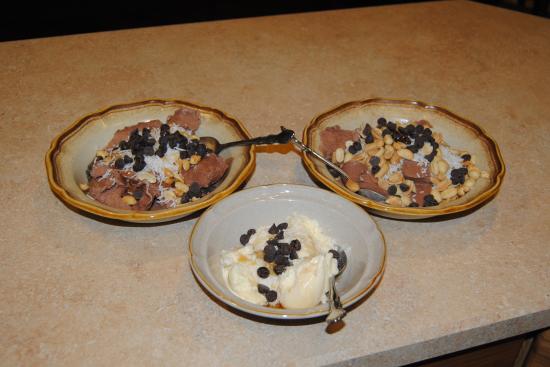 After supper, a friend came over to visit with Rod while he worked on the groundseat of the saddle he is building this winter.  And then we had stuff and stuff for dessert.  Rod likes brown stuff.  I like white stuff.  And we put stuff on top of the stuff - thus the name...  And that made all three of us very FULL!
Looking at all this makes us very thankFULL to the One Who gives it all to us - good work to do, a place to do it, each other to work with, food to eat - the list goes on and on.  So tomorrow we will take a day off to worship Him, and that will be very restFULL...
Comments:
Leave a Reply