Clearing out the shop still more
We are no longer building saddle trees. We have two saddle fit videos available on our westernsaddlefit.com website. Western Saddle Fit - The Basics, aimed at riders, is available either on DVD or streaming on Vimeo while the six hour series Well Beyond the Basics, aimed more for professionals but understandable by anyone, is available by streaming on Vimeo. (We left this website up because we have had many requests to keep the information available.)
I am working on a blog post about how "every saddle tree maker does things differently", but I won't have time to finish it right now.  Why?  We are headed to town pretty quick here to ship and deliver five trees.  Well, six actually, since we are returning one that we duplicated.
So here are two single boxes heading to Texas (one with a Wade and one with an OY roping tree) and single going to southern Alberta with a wood post Canadian Roper tree in it.  The double sized box is headed to central Alberta with the original tree, the duplicate tree and some of the leather from the original saddle in it.  (We can ship two trees in one box and still be within the post office's maximum size limit - just...)
Then we will head off to Debolt and deliver the bare tree, along with the "saddle in a bag" that came with it, since it is a duplicate as well.  But we get supper along with the delivery, and a good visit with good friends.  Any customers in Texas or California or Arizona want us to deliver their trees directly to them say, about February???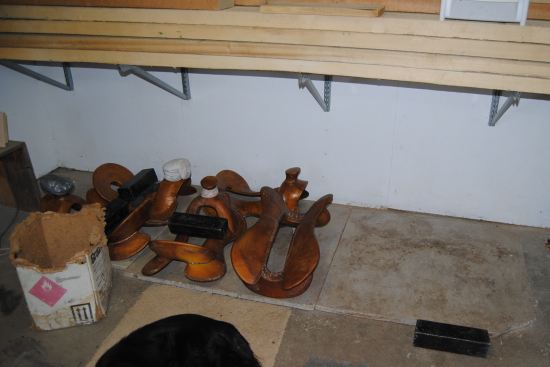 Between Christmas and making and cutting up rawhide (which turned into a 2 1/2 day long production this time!), Rod hasn't been able to keep up making new trees to make up for the ones that are finished drying, so the marble slabs are getting bare.  The front two trees here are drying still, but the back three are finished and waiting for various reasons.  One, a Wade with an exposed wood horn cap, is even for sale!!  (Gotta get a plug in there somehow...)
And under the bench at the back are the other two trees from that set of four still drying.  Everything else is now gone...
We hope everyone had a very Merry Christmas and all the best to our friends and customers in 2013!!
Comments:
Posted by
Gene
on
Dec 28th, 2012
The clan had a wonderful Christmas dinner with good friends....Thank You Denise and Rod - it was great!! The kids really enjoyed the shop tour Rod - - Kayla was telling her Friend about it all when I got them home,she was SO impressed about how comfortable the tree was to sit in - AND IT WAS JUST A TREE!! Daniel has a new appreciation for what you do too - he never realized there was so much to it!!
Thanks again for everything!!
Posted by
RodandDenise
on
Dec 28th, 2012
Thanks, Gene. Glad to hear they enjoyed seeing the shop as well as dinner. Good to meet all the clan too.
Leave a Reply