Before, after and another kind of FULL
We are no longer building saddle trees. We have two saddle fit videos available on our westernsaddlefit.com website. Western Saddle Fit - The Basics, aimed at riders, is available either on DVD or streaming on Vimeo while the six hour series Well Beyond the Basics, aimed more for professionals but understandable by anyone, is available by streaming on Vimeo. (We left this website up because we have had many requests to keep the information available.)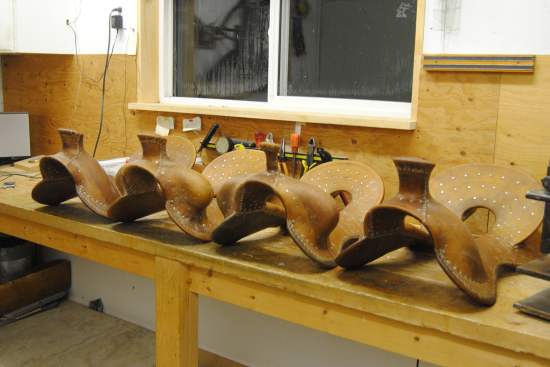 Here's some pictures from the shop tonight, as the look of some trees changed dramatically, and the rawhide room is very full - of large, blue containers...
Here are four trees that are dry and ready for varnishing.  All four are heading south - two to a maker in Colorado and the other two to a maker in South Dakota.  Each ordered a Wade and a swell fork.  From left to right - an 8" Wade, a 13 1/2" wood post Will James, a 13 1/2" Modified Association and a 9" Wade.
You can see the difference in the shape of the Wades due to the width of the forks.  (There are more pictures closer together for a better comparison on our Wades page.)  We don't get a lot of orders for 13 1/2" wide forks.  Most are 13" or 14", but it just so happened that these two got ordered real close together.  Comparing them side by side lets you see the difference in the forks.  While the slope on the top is very similar, you can see the difference caused by the different side shape, with more side cut on the Will James than the Modified Association.  Both these forks have the same 7 3/4" gullet height, but you can see that the metal horn fork has less clearance at the hand hole due to the increased gullet thickness needed to attach a metal horn.
Here you can see quite a difference in the trees - and no, I'm not talking about them being upside down...  The rawhide prior to varnishing is very rough and dry looking.  With varnish, the colors stand out more and it just glows.  And yes, they are shiny and wet looking, but that is because they were wet when I took the picture...
We use a satin or matt varnish rather than a gloss, simply because the glues will often stick to a matt finish whereas they won't stick to a gloss.  The old varnish we used to use was very good to glue to.  With new environmental regulations, that one has been pulled from the market and we have finally run out of our stash which we stockpiled when we learned it was getting discontinued.  Now we are trying some of the replacements to see which one we prefer.  Of course the new, "environmentally friendly" replacements cost literally double what the old one cost...
Here's our rawhide room tonight.  It has six, 55 gallon barrels in it.  These have been scattered all over the main workroom for the last three days as Rod has been busy making rawhide again.  Normally, there aren't this many barrels, because normally we don't get this many hides at one time.  But due to a long list of circumstances (which I really don't feel like typing out now) we ended up with nine - count 'em, 9!! - full hides at one time.  That's 18 sides.  That's a LOT of rawhide to make. 
But over the past three days he has got them all done, finishing the final rinsing about 8 pm or so tonight.  So this is what is in the barrels now - finished rawhide which has already been tumbled with running water in a cement mixer to rinse for an hour.  (I spared you the picture of what they looked like before they were made into rawhide.  If you really want to see that, you can look here, but even that picture is pretty sanitary.)  Rod will change water in the barrels twice a day for a few more days till he is happy that it is coming off clean.  Then he will take probably a full day at least to cut up all this hide, bag it with the pieces for individual trees, label it well and freeze it.  Then he can take four of the barrels back outside so we have room to move back there again!
Comments:
Leave a Reply