Around the shop
We are no longer building saddle trees. We have two saddle fit videos available on our westernsaddlefit.com website. Western Saddle Fit - The Basics, aimed at riders, is available either on DVD or streaming on Vimeo while the six hour series Well Beyond the Basics, aimed more for professionals but understandable by anyone, is available by streaming on Vimeo. (We left this website up because we have had many requests to keep the information available.)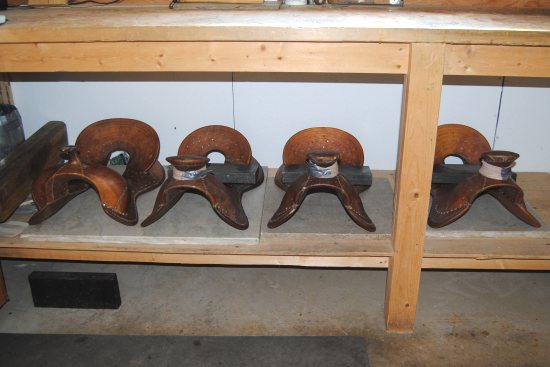 So often I show you the fancy and the different, so I thought I would just take a couple pictures of what is currently on the go around the shop.  Since it takes a good two weeks for the rawhide to dry, we always have two to three sets of trees (Rod will usually build four before rawhiding them as a group) around the shop in varying stages.
This set of four is almost dry.  The one on the left is a copy tree from a flex bar tree that was marking up the horse it was used on.  (That will be an interesting blog post to write when I get around to it!)  It looks like a Buster Welch style of tree, but who knows what the original maker called it.  The next three are Wades of various permutations and combinations.
This set were rawhided four days ago.  On the left is an Arizona Roper.  Next to it is a Buster Welch, then a Bowman.  At the end on the right is a wood post 3B.  Behind them are a couple waiting to be shipped - a Wade on the left and a wood post Will James on the right.  Cantles range from 3 1/2" tall on the Buster Welch to 5 1/2" on the wood post 3B.  There is nothing cookie cutter about this tree shop!
Comments:
Leave a Reply