A few trees from the past weeks
We are no longer building saddle trees. We have two saddle fit videos available on our westernsaddlefit.com website. Western Saddle Fit - The Basics, aimed at riders, is available either on DVD or streaming on Vimeo while the six hour series Well Beyond the Basics, aimed more for professionals but understandable by anyone, is available by streaming on Vimeo. (We left this website up because we have had many requests to keep the information available.)
I finally got around to labelling a bunch of pictures of trees we have built over the last few weeks.  While we have been doing a fair number of Wades (as per normal), we have also had a few more swell forks thrown in lately.  So I thought I would just show you pictures of a few trees.
This is a 13" wide Pro Low Roper fork.  We got a call saying that a customer of theirs had an old saddle and wanted another one just like it, but they couldn't get the same tree from the same tree maker.  So with pictures of the saddle and discussions with the saddle maker, we built this one.  Fit is 4 1/8" hand hole width x 93 degree bar angle.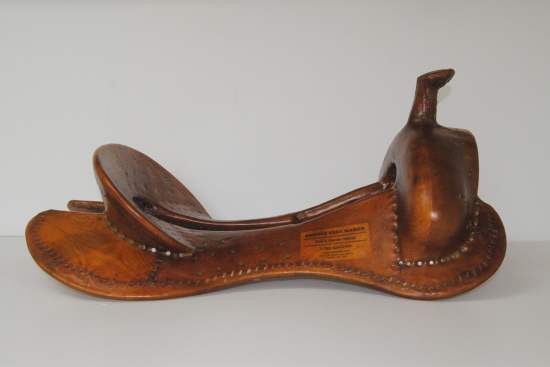 Like a lot of roping saddles, it has a low cantle at 3 1/2" tall.  With that low a cantle, the 15 1/2" seat length still gives a long 10" of thigh room.  (Please see our Seat Length and Thigh Length Relationships page for an explanation of why.)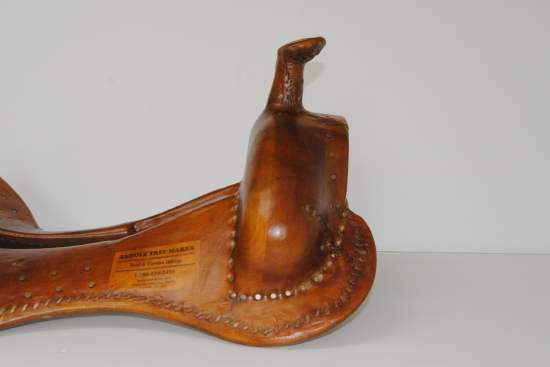 The fork is stood up, and the horn leans forward just a bit to make it look like the pictures sent.  This tree headed down Colorado way.
Continuing on with roping saddles, this one is a 13" wide OY Calf Roper.  Like a lot of calf ropers, it is ordered very wide and low.  Hand hole width is 4 1/2" at a 93 degree bar angle.  The gullet height is only 6 3/4" high with a hand hole height of 5 1/8" tall.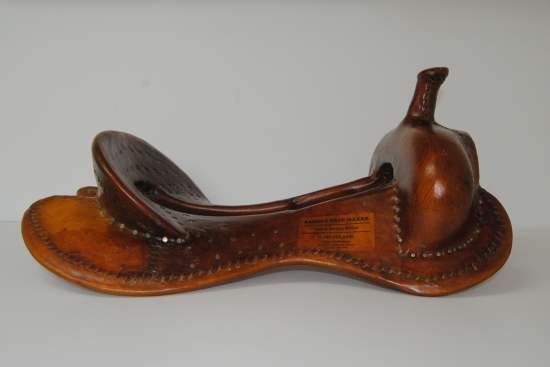 From the side, you can see how low the arch on the back of the fork is to give this low a gullet and hand hole height.  It would look even lower compared to the bars except that the front of the seat has been flattened 1/2" compared to our normal bar pattern.  We can flatten seats on any trees by any amount on request.  The cantle is even lower than the Pro Low Roper at 3 1/4" high.  While the seat is 14 1/2" long, due to the low cantle height and stood up fork, the thigh length is still on the larger half of the spectrum at 9 3/8" long.
Like most calf roping trees, it also is stood up, and has even more lean on the horn.  This one headed all the way down to Arkansas.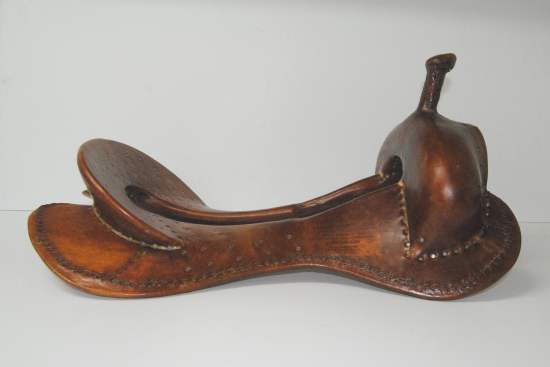 This tree was built to resemble a favourite saddle of the customer who used to do cutting but now just pleasure rides.  Her current horses are of foundation bred lines and the old saddle just isn't wide enough to accommodate the muscular withers and extra rock in the back due to the heavy muscling.  The fit on this tree is 4 1/4" hand hold width x 95 degree bars.  The cantle on this one is only 3" high and is laid back to our latest angle of 32.5 degrees.  There is 10 1/2" of thigh room in this tree with a 16" seat length.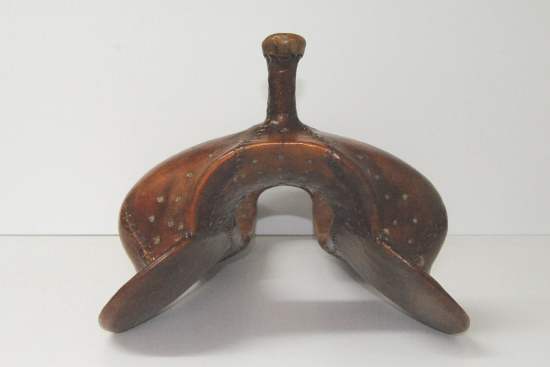 The fork is a 12 1/2" wide Bowman shape with a 7 3/4" tall gullet height and 5 78" tall hand hole height.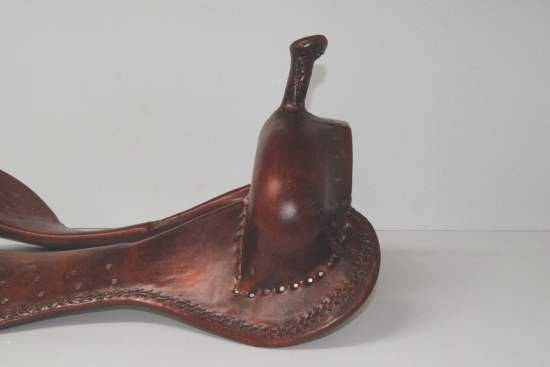 The fork on this one is also is stood up.  The horn is actually called a 4" horn, but with the small horn cap of 1 1/2", it measures just under 3 1/2" high.  This tree is on its way south to Texas.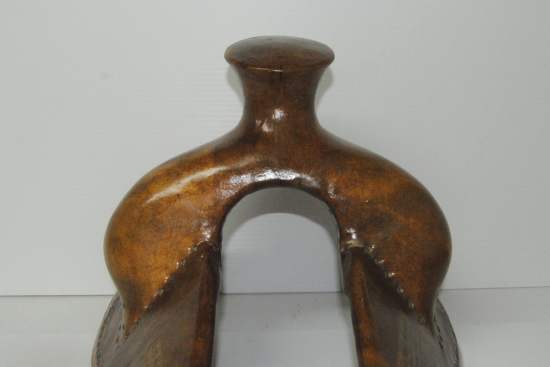 The picture at the top of this post is this wood post Packer tree.  This customer ordered a couple of these.  This one is 11 1/2" wide.  The other was 12 1/2" wide.  Choosing a wood post horn instead of a metal horn lowered the base of the horn relative to the horse by 7/8", which is an advantage to the horse when roping.  The fit on this one is 3 3/4" hand hole width with 90 degree bar angle to fit a narrower withered horse.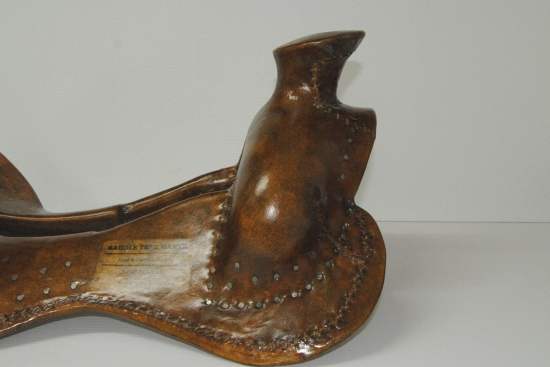 The horn on this tree is 3" high with a 3 3/4" cap.  It is at the middle of the road pitch of 27 degrees.  Increasing the stock thickness to 4 1/2" balances the look of the larger horn cap compared to the normal 3 3/4" stock with a smaller cap on a metal horn, which is more common with swell forks.  This tree isn't travelling as far.  It is only headed to southern Alberta.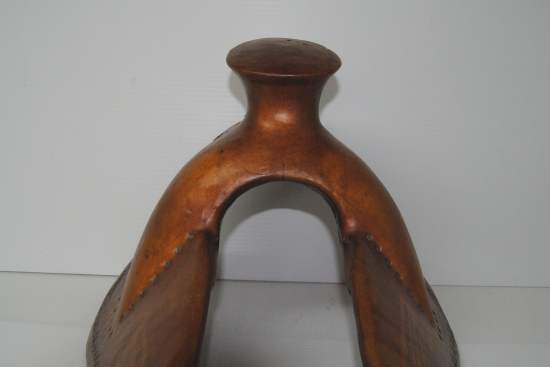 And we have to put in one of our Wades, just because...  It is an 8" swell "width" (remembering, of course, that there is no place to measure a slick fork.)  The fit is 4" hand hole width with a 90 degree angle and a 7 1/2" gullet height, which works well on northern type ranch horses.  And sure enough, this one is headed out to the ranch country of BC.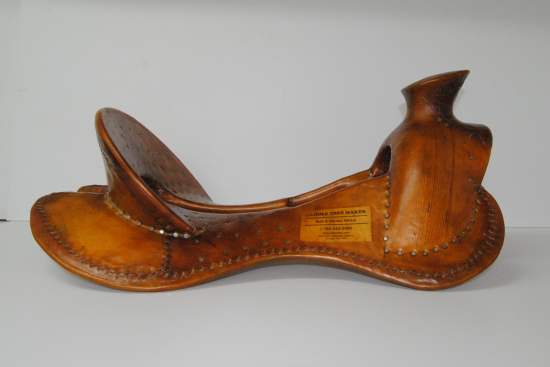 The cantle is 4 1/2" tall by 12" wide, which is a pretty common order on a lot of Wade saddles.  With that cantle height, there is only 9" of thigh room with a 15 1/2" seat length compared to the longer thigh lengths on the previous trees that had shorter cantles.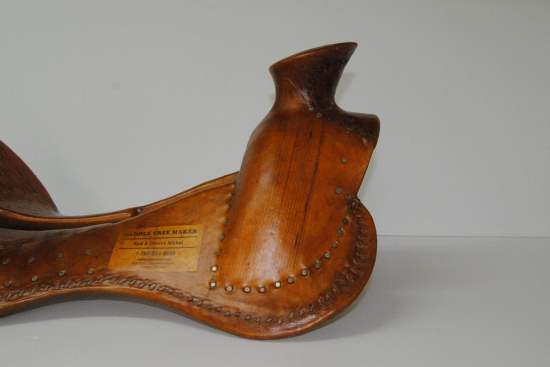 The horn is 3" high with a 4" cap on the 5" stock thickness of a traditional Wade.  It has more pitch to it at 30 degrees.  Put together, it is just a really classy looking tree.
And that's it for now!!!
Comments:
Leave a Reply