A couple of changes
We are no longer building saddle trees. We have two saddle fit videos available on our westernsaddlefit.com website. Western Saddle Fit - The Basics, aimed at riders, is available either on DVD or streaming on Vimeo while the six hour series Well Beyond the Basics, aimed more for professionals but understandable by anyone, is available by streaming on Vimeo. (We left this website up because we have had many requests to keep the information available.)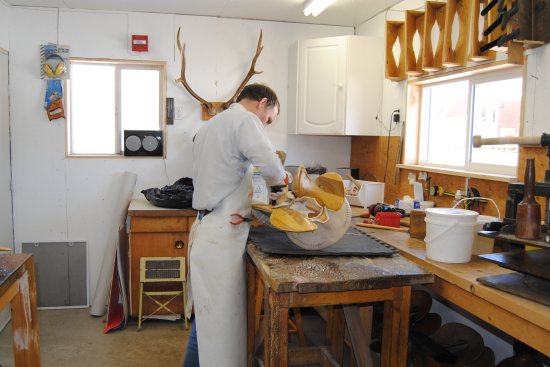 I thought rather than bore you by showing yet another picture of Rod sitting and rawhiding a tree, I'd do something different.  Here he is standing as he rawhides a tree!  Yup, for some parts he sits and some parts he has to stand.  Keeps him in shape...
And other change that happened in the shop today -
This:
went to this: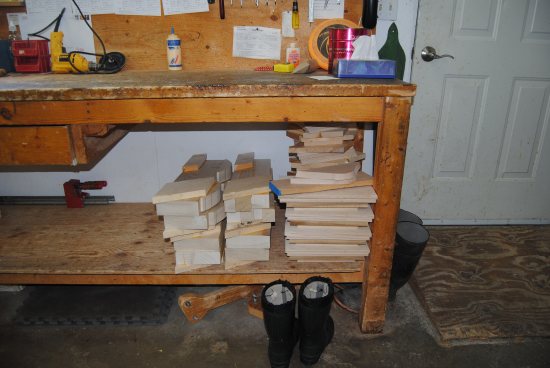 There are parts for four trees - bars, cantles, forks (behind the cantles), and horn caps (on top the cantles) - all marked out ready for Rod to work on next week.  
No, they didn't all get glued up today too!  Doing up the wood is my (Denise) part of the job around here.  I usually take a day of marking out the lumber, planing, thicknessing and edging to get the parts all ready to laminate.  Then they get glued up over the next few days, and finally I mark them out in the block of four trees (usually) that Rod will build in his next set.  Today was mark out day.
Comments:
Leave a Reply