A Charro saddle tree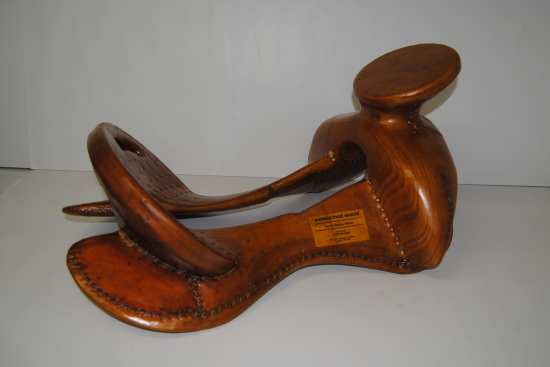 Earlier this fall we built a Charro tree, named because this is the style ridden by traditional Mexican horsemen, or Charros.  In our research we found that there is a lot of variety in the traditional Charro saddles.  This makes sense because according to Frederic Remington, a writer from the late 1800s who rode with the Mexican riders of the day, they only ordered the iron rings and then made their own trees and saddles.  So when we see pictures of the old Charro saddles, there are some that have extremely wide forks and some that are actually slick forks.  This means that there is no single style that is "the traditional Charro saddle tree".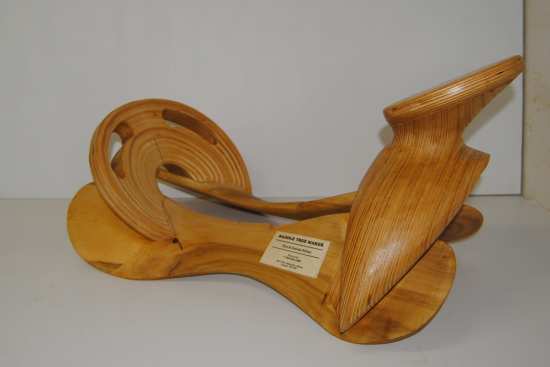 In this case the customer sent us a modern tree from Mexico, asking if we would make something that looked similar but that would fit today's horses and have a comfortable seat for the rider.  So the bars and the fit were done the same as normal.  It was just figuring out that fork and cantle…
The thing that is consistent on Charro trees is a very large wooden horn with a lot of pitch to it.  Going off the design the customer sent us, the finished horn cap measured 7 ¼".  As they were often decorated around the edge of the horn cap, we made the edge an inch thick.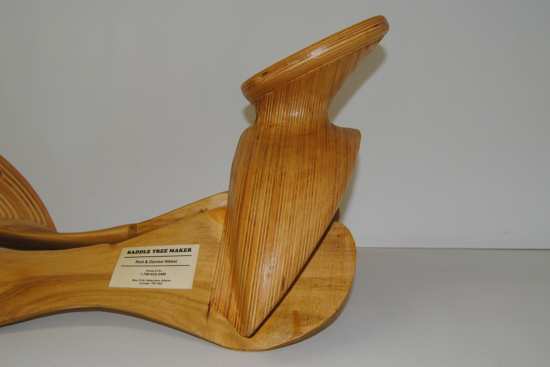 The fork was set at our normal stood up angle.  It still has a slight pitch forward, but not a lot.  The rigging on these saddles go through the gullet and come down on the front and back of the fork with the rigging ring below the swell on the fork.  Rod shaped the fork so that the rigging would be set at a full position and not fall ahead of full.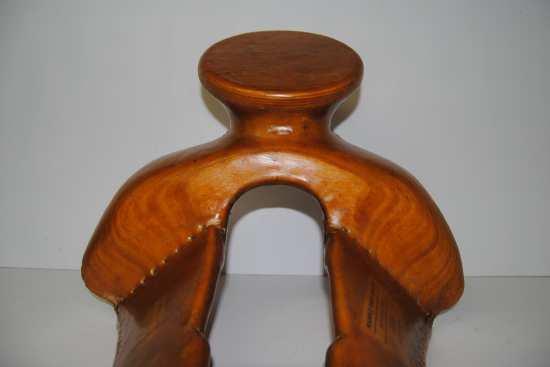 The fork, patterned on the tree the customer sent us, was 16 ¾" wide and rather fun to shape.  The Baltic Birch plywood made it look very pretty.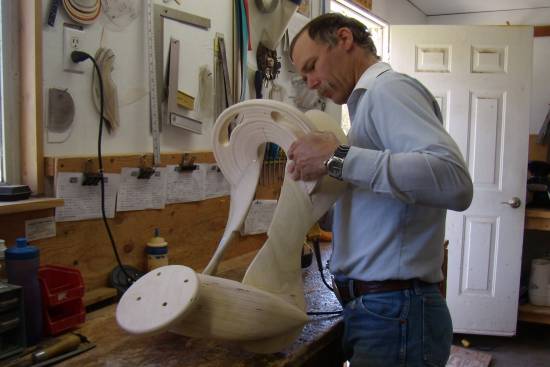 Some Charro trees have cantle slots.  Some don't.  The customer wanted them on this tree.  The extra thick edge on the cantle, as on all Charro trees, is an advantage when it comes to the strength of the wood above the slots.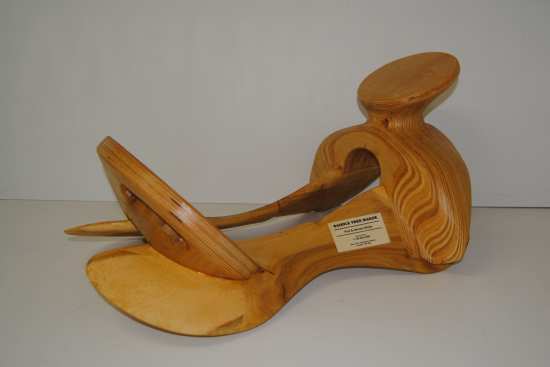 This was a really fun tree to build.  As always when we do something unusual, there are things we would do differently next time.  But overall we were really happy with it and so was the customer.  He has promised us pictures of it when he has it finished and if he gives us permission, we will post them here too.  We're looking forward to seeing them!
Comments:
Posted by
Rafael
on
Feb 22nd, 2012
Very excited to see you have improved the charro tree. Is it possible to make one for me, please send me quote and what you need from me.
Cheers,
Rafa
Posted by
RodandDenise
on
Feb 22nd, 2012
Rafael, glad you like the tree. I have sent you an e-mail.
Posted by
Aj
on
Mar 23rd, 2012
Can this style of tree be made to fit a mule? Thank you; Aj
Posted by
RodandDenise
on
Mar 23rd, 2012
AJ,
For sure. The top and the bottom of any tree can be made so they are independant of each other, meaning any style of fork and cantle can be made to fit any type of equine.
Posted by
Darren Barfield
on
Dec 9th, 2012
Your tree looks impressive. I have been looking for a quality modern charro saddle, and have decided that it may be easier to build my own. Can you send me the info and pricing on a charro tree made to fit today's quarter horse? Thanks, Darren
Posted by
RodandDenise
on
Dec 9th, 2012
Thanks, Darren. E-mail coming your way...
Posted by
Brandy
on
Jan 15th, 2013
Love your Charro Tree. Where can I find the pics of the finished saddle?
Thanks so much,
Brandy
Posted by
RodandDenise
on
Jan 15th, 2013
Brandy,
Our customer has never sent us pictures of it finished, so we don't know what it looked like either. I sure would like to see them someday though!
Posted by
Steve
on
Feb 2nd, 2013
I'm interested in buying just such a tree. What do they cost? How long a wait?
The horse I'm riding is a short-backed mustang. What measurements do you need to ensure proper fit?
I am currently riding a Wade which tends to slide up the withers on the downhill.
Posted by
RodandDenise
on
Feb 2nd, 2013
Steve,
I've sent you an e-mail. We have a page on Measuring Horses for Fit if you want to go the ideal route of letting us know exactly what your horse's shape is. http://www.rodnikkel.com/content/index.php/tree-and-saddle-fitting/measuring-horses-for-fit/ Then we know his body type and can fit that.
For short backed horses we also like to get a shoulder to hip measurement which helps us figure out the maximum bar length that would be good for this horse: http://www.rodnikkel.com/content/index.php/saddle-tree-blog-from-shop-and-desk/taking-the-shoulder-to-hip-measurement/
Posted by
Juan
on
Mar 8th, 2013
Can you please send me some contact Info and price on this tree I would like to purchase one, the ones from mexico are too narrow for my quarter horse thank you
Posted by
RodandDenise
on
Mar 8th, 2013
E-mail sent...
Posted by
JACK
on
Mar 26th, 2013
Nice work. Problem with charro saddles, seat is waaaay too wide and like setting on a 55 gal oil drum. I guess you have modified them to be a little more "user friendly". Please let me know lead time, options, price, etc. Thank you very much!!
Jack
Posted by
RodandDenise
on
Mar 26th, 2013
Jack, the tree we were given to copy would fit your description. I can't imagine riding it for any length of time at all. We put our normal seat shape in a charro tree which has been designed to be the same shape as a finished seat in a good saddle as possible.
E-mail sent with specifics.
Posted by
julian castillo
on
May 26th, 2013
how much would it be for a full quarter bar,with a high palmal charro seat just the hardness
Posted by
Javier
on
May 26th, 2013
Could you send me a quote too.... I live in Houston Tx.
Thxs
Posted by
RodandDenise
on
May 26th, 2013
E-mails sent.
Posted by
alberto
on
Nov 21st, 2013
how much are your charro trees that fits and what is the differences bitween the trees from mexico and yours .yours look good
Posted by
RodandDenise
on
Nov 21st, 2013
Alberto,
Thanks for the compliment on our trees. The price of the trees will vary depending on fork width, cantle slots, etc. We will e-mail you with prices. However, our normal trees are $600 Canadian at the moment and these are more.
Our charro trees are built with a seat like the rest of our trees, which make it easy for the saddle maker to put in a comfortable seat for the rider. That shape is comfortable to ride with the minimal leather covering on a normal charro style saddle. The charro trees from Mexico which we have seen have a very wide and flat seat which would not be very comfortable to ride.
Our trees can also be made to fit different sizes and shapes of horses. How much variation is available in the traditional trees and how well they fit today's horses is something someone who uses them is better able to answer than we are.
Posted by
RodandDenise
on
Feb 7th, 2014
Rusty,
We only build the trees, not the saddles. But we can give you a name or two to try. An e-mail has been sent to you.
Posted by
Rusty
on
Feb 7th, 2014
Hi.
I'm very interested in the Charro saddle but like others, I can't find what I want...do you build the trees and the saddles as well? If do, I'm very interested in talking to you. Please email me. Thnx.
Posted by
Jesus Segura
on
Mar 25th, 2014
This tree looks very Mexican modern I would love to have one made if you don't mind sending me a quote.
Leave a Reply