We are no longer building saddle trees. We have two saddle fit videos available on our westernsaddlefit.com website. Western Saddle Fit - The Basics, aimed at riders, is available either on DVD or streaming on Vimeo while the six hour series Well Beyond the Basics, aimed more for professionals but understandable by anyone, is available by streaming on Vimeo. (We left this website up because we have had many requests to keep the information available.)
About Us
We are a husband/wife team who enjoy building saddle trees together.  All our trees are hand made by the two of us – no employees, no duplicating machines.  We live about 20 miles north of Valleyview, Alberta, which is about 3 ½ hours drive north of Edmonton and a 10 hour drive north of the Canada/US border.  Our shop is in our back yard, so the commute to work is pretty short.  We graze some cattle on our place during the summer, and have lots of room for our horses.  Being able to work together and live in such a beautiful place - we have been blessed above and beyond anything we ever expected.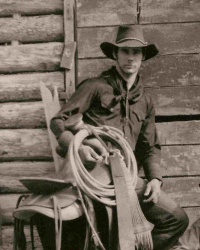 Rod's background is as a working cowboy who used saddles for his "office" for a few years so he knows the importance of this vital piece of equipment both to the horse and the rider.  His first custom saddle, built by Julian Tubb – a good friend and excellent saddle maker - had a production tree in it that gave him some problems.  So when Julian decided he needed to build his own trees to get the quality he wanted, Rod ordered another saddle with a Tubb tree in it.  Even though the saddle was built by the same maker as his first one, he could immediately tell the difference with a hand made tree.  "The first time I stepped into it, it just didn't move."  Rod had been around when Julian was setting up his shop and had watched him as he worked on some trees,.  An idea formed in the back of his mind – "That's something I could do someday."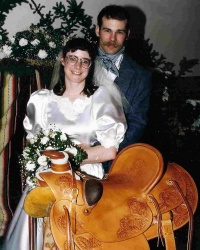 Denise has a degree as a Doctor of Veterinary Medicine.  She worked in both small animal and mixed (small and farm animal) practices for a number of years before she retired to help Rod in the shop.  Her educational background helps her understand the big words in the anatomy texts and research articles on equine anatomy, biomechanics and how they relate to horses.  She enjoys reading and learning more about these areas.  When they were engaged, Rod didn't go looking for a ring - he ordered yet another saddle from Julian.  "I ride my engagement ring."
With that background, it was fairly natural that when we got tired of working for wages and decided to try something for ourselves, building saddle trees would come up for discussion.  So after his summer job riding for a community pasture ended in the fall of 1995, Rod visited Julian to learn how to build trees.  Rod built his first tree early in 1996 and by the end of 1998 Denise was able to quit working out and stay home to help Rod.  The business has supported us ever since.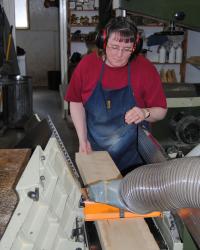 While we enjoy working together, we each have different jobs to do in regard to the trees.  Rod is the tree maker, rawhide maker and rawhider of trees.  Rod has the artist's eye and hand that can shape a tree evenly and beautifully.  Denise's main part in building the trees is turning rough lumber into laminated blocks of wood with the patterns marked out.  She also does all the varnishing and shipping along with the office duties, including the computer work.  Overall, a really good division of labour that works very well for us.
We'd like to hear from you.  Please click here to sign our guestbook.